AUDIO: Pete Wentz On Media Attention Over Split With Ashlee: 'Thank God Charlie Sheen Exists!'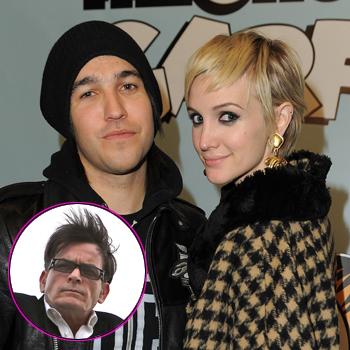 Pete Wentz didn't reveal too much about his pending divorce from wife Ashlee Simpson during his appearance on On Air with Ryan Seacrest Monday, but the rocker might have had the quote of the week in expressing his relief that his dirty laundry's been out of the headlines as of late.
"It's like the one time on earth I'm like, 'Thank God Charlie Sheen exists!'" the Fall Out Boy bass player told Seacrest.
Article continues below advertisement
Ashlee filed for divorce from Pete in L.A. County Superior Court February 9, citing "irreconcilable differences," requesting joint legal custody and primary physical custody of their son Bronx, as well as spousal and child support.
When asked about his personal life, Pete told Seacrest, "I mean ... I think that one of the hardest things is that when you're in the public profile, it's hard to maintain your private life, especially when there's a kid involved.
"Ashlee's been my best friend for five years, she's the mother of my child, I have nothing but love and respect for her," Pete said. "Going through something like this isn't easy, but we're friends and we put our son first."
On the bright-side, doting dad Pete said Bronx, 2, is doing "awesome" and learns "something new everyday ... everyday is a new discovery for him."
As RadarOnline.com previously reported, Pete and Ashlee were spotted out twice this weekend, picking up meals at two different fast food establishments in Southern California.
RELATED STORIES:
EXCLUSIVE: Pete Wentz Tells Ashlee Simpson He Will Pay
COURT DOCUMENTS: Pete Wentz Files Divorce Response -- Requests Joint Physical Custody Of Son