VIDEO: Snooki Sleeps Around, While Ronnie & Sammi Reunite On Jersey Shore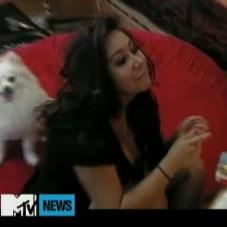 Thursday's episode of the MTV smash hit Jersey Shore saw Ronnie and Sammi reunite, as well as an in-depth look at Snooki's wild sex life, and RadarOnline.com has all the scoop for you.
Snooki was upset after a boy she'd been involved with named Nick had been blowing her off -- after learning she'd slept with not one, but two of his cousins!
Vinny had a crack at a roll in the hay with Snooki after this fiasco, but turned it down, saying he cares too much about her "to let her smush two nights." (Yes, chivalry lives on the Jersey Shore!)
Article continues below advertisement
"There are no good quality guys in Seaside," Snooki complained.
In the other plot twist (we all saw coming), Ronnie and Sammi reunited after the beefy Ronnie told her, "Like, I never thought you would break up with me, and you did. I knew what I had, and, like, you didn't."
"Don't ruin your life over me," Sammi told Ronnie, who responded, "You are my life now."
Touched by his words, Sammi showed back up in Seaside Heights to resume her stay on the Jersey Shore.