VIDEO: Lindsay Lohan Jokes About Stealing On Jimmy Kimmel After-Oscar Special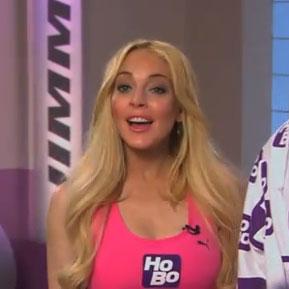 Lindsay Lohan might be facing hard jail time, but that doesn't stop the actress from getting a good laugh at her own expense.
Currently up on a felony theft charge in connection with a $2,500 necklace she's accused of lifting from a Venice Beach jeweler, the Mean Girls star appeared in an Oscar-night bit alongside Jimmy Kimmel, where she playfully referenced her own legal woes.
The Kimmel bit was an infomercial parody touting the Hottie Body Humpilates (HoBo) exercise program, also starring Jessica Alba, Kelly Ripa, Minka Kelly, Jessica Biel and Sofia Vergara, although it was LiLo who stole the spotlight, as usual.
Article continues below advertisement
Lindsay makes her first appearance at 6-minutes and 15-seconds into the 7-minute skit, and then says at the very end:
"The Jimmy K program is so affordable, it's practically a steal," Kimmel said, to which Lohan added, "Allegedly."
Watch the video on RadarOnline.com
RELATED STORIES: