VIDEO: Hayden Panettiere Defends Controversial Amanda Knox Lifetime TV Movie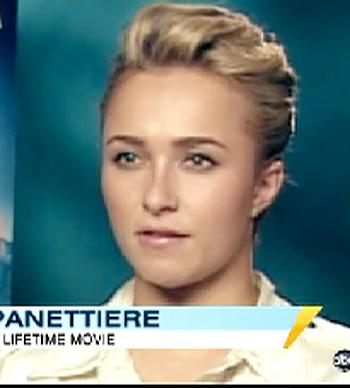 The new Lifetime movie Amanda Knox: Murder on Trial in Italy is stirring up all kinds of controversy, and Good Morning America Monday got reactions from both the film's star Hayden Panettiere and Knox (through her family) over the explosive film.
As RadarOnline.com previously reported, Knox is the 23-year-old American exchange student who was convicted in Italy of murdering British exchange student Meredith Kercher with the help of two other men.
Article continues below advertisement
Knox is currently seeking an appeal, and her attorneys Carlo Dalla Vedova and Luca Maori have demanded the network pull the film and trailer, so as to not to influence the proceedings based on perceptions drawn from the film.
Panettiere, defending the movie, said that the film succeeds in keeping things factual.
"It's a very controversial topic, and I don't think people are going to have a problem with it," Panettiere said. "It's pretty fact-driven, and ends right when she gets convicted."
Amanda Knox's stepfather Chris Mellas said Knox was hyperventilating when she caught a preview of the TV movie, which shows scenes depicting Kercher's alleged killing.
Watch the video on RadarOnline.com
"She was so amazingly shocked by it -- she said she literally hyperventilating when she saw it," Mellas told Good Morning America Monday. "This thing with Lifetime, I think is nothing more than them trying to make a buck, and its disgusting."
MORE ON:
Hayden Panettiere
Article continues below advertisement
Amanda's "really not a very complex person, she's generally upbeat, she tries to see the best in everything," Mellas said.
In December 2009, Knox was convicted of sexually assaulting and fatally stabbing her roommate, Kercher, on November 1, 2007. She was subsequently sentenced to 26 years in jail.
Amanda Knox: Murder on Trial in Italy is slated to air February 21.
RELATED STORIES: