Real Housewives Of Miami: Bad Hair, Lesbians & Latinas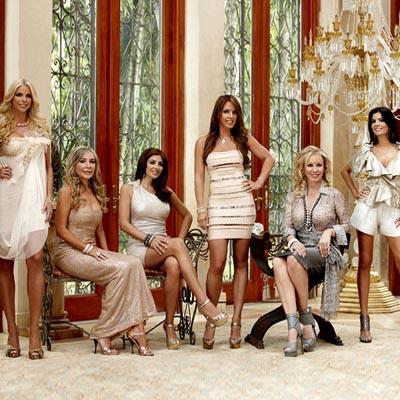 Get ready to fall in love with -- and maybe hate -- a whole new set of housewives, because Bravo has promised to "turn up the heat" with the cast of the Miami franchise.
RadarOnline.com has all the scoop on what the new show is all about: Bad hair, lesbians and Latinas!
Lea Black, Alexia Echevarria and Marysol Patton spoke for the first time to us and revealed juicy details and teasers about the premiere of The Real Housewives of Miami.
Article continues below advertisement
"It's going to be fun above the belt drama," Lea revealed, but unlike their New Jersey and New York counterparts it might not be as violent, she said.
"I wouldn't say its hair pulling, table flipping drama... The best of Miami and the best and the worst of all of us."
Alexis said that she sees similarities between herself and Atlanta housewife NeNe Leakes.
"I can relate to her in that she has a teenage son," she said, "the problems and the kind of relationship she has with him."
Without naming names, Lea warned that some of the fights were "deserved" too!
"I would say that none of the women on this show particularly go out of their way to step on anyone," she added.
"But if anyone did get stepped on then more likely it would be because someone was calling them out on something which was perhaps they deserved to be called out on."
Admitting that she kept it a secret that she was on the show, Lea said her husband's law partner "is probably having a stiff drink by now. Or he is ready to call 911 for oxygen."
Article continues below advertisement
Meet The New Housewives of Miami!
Marysol said people were excited for her to be on the show.
"I think it will be great for us and clients," she said, but added that her mother has no idea what is coming to her.
Alexia's husband wasn't on board in the beginning said and her appearance on the show almost lead to a divorce.
"My husband is a lot more supportive now," she revealed.
"In the beginning it was almost like divorce time for us. Now he is my biggest fan and he is excited for me so I have his support which is very important to me. My kids are super excited, they were one of the reasons I did the show."
She dished on what the women on the show are like and what makes the show unique in the series.
"Different cultures, the mix of Latin, Brazilian and our lovely Texan too," Alexia said.
"That is going to be what sets us apart from everyone else... the fact there are four Latinas. The way we speak and look and move. The cast is very diverse."
The women revealed their gay friends are featured prominently on the show also.
Article continues below advertisement