PHOTOS & VIDEO: Stars Shine At Super Bowl, Christina Aguilera Addresses National Anthem Flub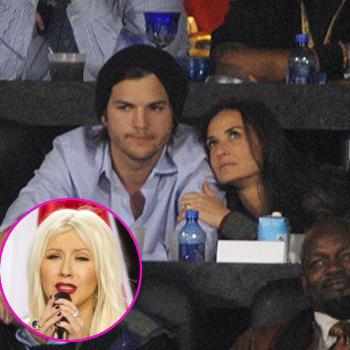 A red carpet's worth of celebs turned up to Sunday's Super Bowl in Dallas, as the guest list included Harrison Ford, Michael Douglas, Owen Wilson, John Travolta, Cameron Diaz and Alex Rodriguez, Jennifer Aniston, Ryan Seacrest and Julianne Hough, and Christina Aguilera, who was the talk of the night for an embarrassing reason -- flubbing the National Anthem
As RadarOnline.com previously reported, Aguilera botched a key verse in her performance of The Star Spangled Banner, singing "What so proudly we watched at the twilight's last reaming," when she was supposed to have sung, "O'er the ramparts we watched, were so gallantly streaming."
Article continues below advertisement
Aguilera later issued a statement addressing her Star Spangled Banner flub, and while she didn't directly apologize for the gaffe, she said she hopes her patriotism shined through in spite of her musical mistake.
"I got so caught up in the moment of the song that I lost my place.
"I can only hope that everyone could feel my love for this country and that the true spirit of its anthem still came through," the Burlesque star said.