PHOTOS: Vanessa Hudgens -- Before She Was Famous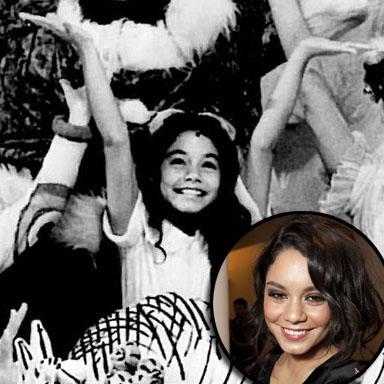 Vanessa Hudgens has ditched her squeaky-clean image in favor of a sexier, tattooed look, but RadarOnline.com has the cute childhood pictures before she was even famous.
The newly single actress has come a long way since her days at Disney, but it was clear from an early age, that Hudgens had star potential.
With her big smile and curly hair, the High School Musical beauty was a celebrity in the making even at the age of nine.
Article continues below advertisement
Playing Cindy-Lou Who in How The Grinch Stole Christmas at San Diego's Old Globe Theatre, she is pictured smiling and singing and even sitting on the Grinch's knee.
Hudgens, 22, has vamped up her image since splitting from her longtime boyfriend, Zac Efron and as RadarOnline.com previously reported, she just got her first tattoo - a butterfly inked on her neck.
This month, she also starred in a sexy lingerie shoot for Details magazine in which she opened up about her hopes for some gritty future film roles.
"We were at Madonna's party," she recalled. "Quentin Tarantino was there, and I was talking to him for a while, probably after a few drinks, and I told him, 'We've got to do something together.' And he was like, 'I would love to. That would be really great.' So it's been put out there.
"Slowly, I've gained balls. I used to be very shy. Hopefully Quentin won't look back and think, Oh my God. That crazy b*tch.'"