Exclusive
PHOTOS: Tom Cruise Had Church Of Scientology Build Luxury SUV For Wife Katie Holmes & Suri, Ex-Staffer Claims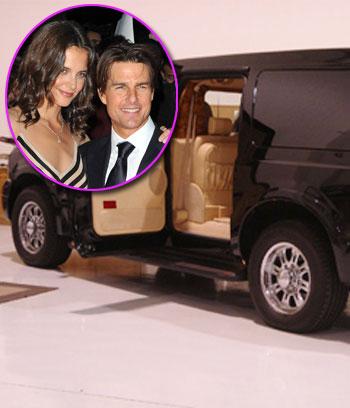 Hollywood superstar Tom Cruise requested the Church of Scientology custom-build him a luxury SUV so he could accommodate his then-pregnant wife, Katie Holmes, according to a former high-ranking staff member.
John Brosseau, a 30-year member who has since left the church, has claimed he worked on two motorcycles, an airport hangar and the lavish vehicle for the actor -- all while he was getting paid $50 a week while "supposed to be working for the betterment of mankind".
Article continues below advertisement
The Scientology whistle-blower is speaking out for the first time, as it emerged the FBI had launched an investigation into the church for using free labor -- in part, according to former Scientologists, to service the demands of its celebrity icon Cruise.
Having been denounced by the church after participating in an explosive New Yorker feature, an infuriated Brosseau has now released a secret dossier of work he completed while inside the super secretive church -- complete with amazing photos showcasing the Ford Excursion limousine the church supposedly built for Cruise!
Brosseau, the former brother-in-law of church leader David Miscavige, said he spent six months and "2000 man-hours" creating a limousine "like no other ever built".
"The truth is that DM (Miscavige) had Sea Org staff spent thousands of hours doing personal projects for Tom Cruise while being paid $50.00 per week as their salary," Brosseau wrote, in the dossier.
"Fortunately, I took a lot of photos of things I worked on over the years."
Article continues below advertisement
The images show Sea Org staffing doing electrical modifications under the dash, expensive leather, wool carpet, a metal contraption which served as a mount for Suri's baby seat, hand-made aluminum "TC" badged treads and a ballistic proof fiberglass roof panel.
What's more, a huge eucalyptus tree cut down from the church's International Base was used to create "fancy woodwork" inside the limo.
"The burl was very unique," Brosseau said.
"Tom loved it as it had come from a tree at the International Base, where he (Cruise) had achieved the state of Clear in the early 90's. DM (Miscaviage) let him know that it was a special piece of wood from the International Base and Tom raved about it."
Brosseau even made Cruise a custom Mont Blanc pen out of the eucalyptus which was hidden in a secret storage location.
"DM went nuts when he saw this and so did Tom," he wrote in the dossier, "It was completely over the top."
Article continues below advertisement
According to the church's former Inspector General, Mark Rathbun, Katie was pregnant with Suri at the time the church was building because "Tom wanted a new vehicle complete with a baby seat for the expected new arrival."
Brosseau said he spent six months building the Excursion and upon completion was considered a "hero" among the church's hierarchy because the actor was "completely blown away".
"I know it was still being used as Tom's primary transportation vehicle in the Los Angeles area in April 2010," Brosseau said.
"I am proud of it and all the other things I worked on, but I am ashamed of who they were for and why. It is not what I thought I would be doing when I joined the Sea Organization."
As RadarOnline.com first revealed, the church also gave Cruise 'Silver Screen' -- a trailer-style bus -- which was made for him using "slave labor," according to Rathbun.
Cruise used the luxury vehicle as a base for lover Katie Holmes to begin her 'Purification Rundown Program', a controversial detoxification and introductory program developed by Scientology's founder L. Ron Hubbard.
Article continues below advertisement
The church has insisted whatever benefit Cruise received from it "pales in comparison to the benefits the church has received from Mr. Cruise's many years of volunteer efforts," according to spokesman Tommy Davis.
Cruise's attorney says that "the Church of Scientology has never expended any funds to the personal benefit of Mr. Cruise or provided him with free services."
RELATED STORIES:
Proud Parents John Travolta & Kelly Preston: 'We're Beyond Ecstatic'