PHOTOS: Super Bowl Spirit! Stars Flaunt Their Assets In Steelers And Packers Colored Bikinis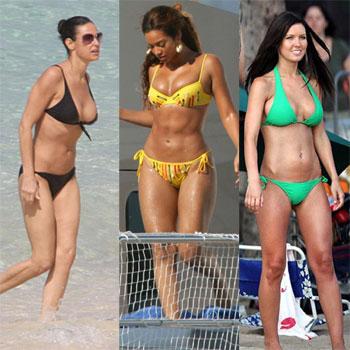 Super Bowl Sunday is just around the corner, so what better way to get into game day spirit, than by checking out photos of your favorite stars stripped down into Pittsburgh Steelers and Green Bay Packers colors? Click the next sentence to see stars flaunting their assets in black, yellow, and green bikinis.
Click Her Too See Stars Flaunt Their Assets In Steelers And Packers Hued Bikinis
Yellow is the common color at the big game this year, as both teams have the hue splashed on their jersey, and there are several bikini babes who flaunt their bod in the anything but mellow color.
Article continues below advertisement
Brooklyn Decker is a Sports Illustrated supermodel who doesn't mind letting her boobiful assets spill out of her skimpy bikini top. Though she prefers tennis to football (she is married to hunky tennis pro Andy Roddick) she definitely deserves a trophy for her perfect bikini bod.
Click Here To See Brooklyn's Spilling Out Of Her Yellow Bikini
Jessica Alba is a bigscreen babe who electrifies the beach with her perfect 10-bikini body. The sight of the Jess in her itty-bitty yellow bikini is enough to make any football pro fumble.
Article continues below advertisement