PHOTOS: Robert Pattinson, Kristen Stewart & Their 'Movie Child' Arrive In Vancouver To Shoot Breaking Dawn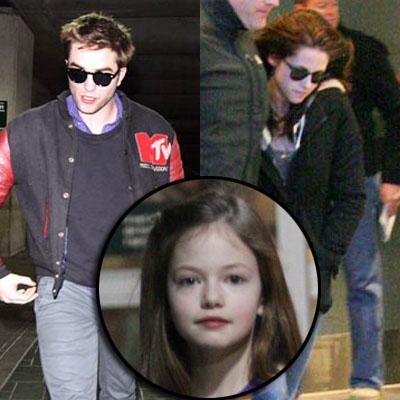 Robert Pattinson and Kristen Stewart have returned to Vancouver, British Columbia to film Breaking Dawn, and this time they brought along a little pal: rising star Mackenzie Foy.
The 10-year-old's slated to play Edward and Bella's half-vampire, half-human daughter Renesmee Cullen in the fourth film in the series, and RadarOnline.com has all the pictures for you.
Foy comes with high marks from her neighbor/Twilight castmate, Elizabeth Reaser.
Article continues below advertisement
"She lives across the hall from me in Baton Rouge, and she's a wonderful, great actress," Reaser told MTV. "She never complains about anything. She's so professional and just a sweetheart.
"I think it was really well cast between Rob and Kristen. She could be their kid, you know? She looks like that."
The last film in Stephenie Meyer's series, Eclipse, grossed more than $300 million.
Breaking Dawn is slated to open November 18, 2011.