Pressures Of Presidency: Obama Loses 30 Pounds Since Taking Office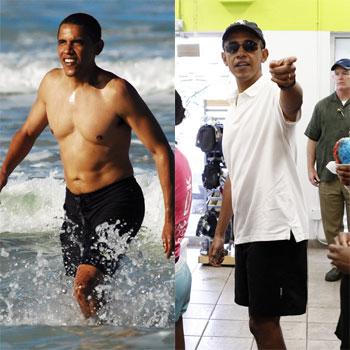 The pressures of presidency are apparently taking their toll on Barack Obama, and RadarOnline.com has the photos of his shocking weight loss.
He's only been President for two years, but his body is already showing the tell tale signs of stress, with experts now predicting he has lost nearly 30 pounds.
"It is really quite a difference," said host of TLC's Freaky Eaters, Dr. Mike Dow Psy.D, after comparing photos of a muscular looking Obama frolicking in the surf in 2007 and photos of him looking thin and drawn from his Hawaiian vacation last month.
Article continues below advertisement
"He has clearly lost a significant amount of weight. I would go as far as to say I think he has lost about 30 pounds and a lot of that is muscle mass.
"The problem is that even in the heavier pictures he didn't have much fat on him so he can't afford to lose much.
"As the American President he has the most stressful job in the world, so it makes sense. At the same time, he is the only president that has made exercise a priority.
"I've no doubt that it's stress that has caused this change in his body. And while his health is important to him he has to be very careful not to lose too much weight because that carries health risks in itself."
The commander-in-chief has recently quit smoking, but even that hasn't caused him to put on some pounds.
Two years ago, he was forced to defend his figure when he was branded 'Barrack n' Bones'. At the time he insisted he wasn't skipping meals and that the political pressures were a privilege not a burden.
Article continues below advertisement
He has also convinced his supporters that while he is skinny he is 'tough' at the same time.
But Melissa Lorch -- a leading fitness and nutrition expert -- says he needs to continue his exercise regime to avoid further complications from the stress he is under.
"He looks like he has lost a considerable amount of weight," said Lorch, who is a personal trainer and owner of fit4mum.com. "He looks gaunt around the face and I would put that down to stress more than exercise or a healthy eating plan.
"With this in mind he needs to continue to follow an exercise routine as stress can also increase blood pressure and his heart rate too."
RELATED STORIES: