PHOTOS: Happy Bikini Birthday, Jennifer Aniston!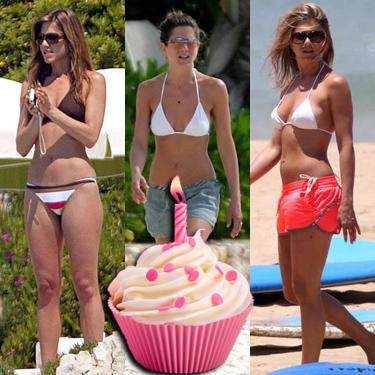 It's hard to believe Jennifer Aniston is celebrating her 42nd birthday on Friday. The former Friend is famous for everything from her comedic skills and acting chops to her headline-grabbing love life and her trendsetting hairdo's, but it is her banging bikini body that we are honoring with this special photo feature. Click the next sentence to see Jennifer Aniston stripped down and sexy in her skimpy bikini over the years.
Article continues below advertisement
Click Here To See Jennifer Aniston's Bikini Body Over The Years
Over the past eight years, Jen's personal life and career have definitely changed, but her bikini body is just as sexy at 42-years-old as it was at 34.
It is no secret that Jen is dedicated to keeping her bikini bod rock hard. The combination of yoga, Pilates and running with a protein-based diet has proved to be the perfect equation for maintaining her fat-free and fabulous figure.
Jen lives by the 'less is more' ideal when it comes to picking out a bikini. Shying away from trends, she sticks to the basics cuts like string bikinis and halter tops (which show off her bikini boobs and booty to perfection!) in solid colors and stripes, often mixing and matching her suits to add her own flair of fashion.
Jennifer Aniston's bikini body is our gift to you.
See Jen's banging bikini body over the years by clicking here.