PHOTOS: Fashion Flashback! The Best, Worst & Wackiest Fashions Of The Oscars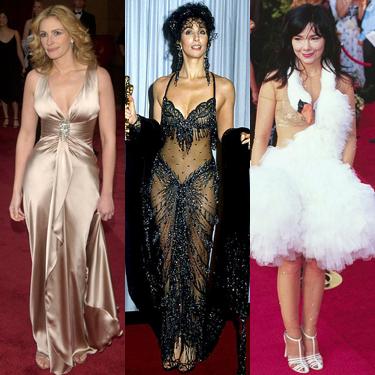 Hollywood's hottest stars will be hitting the red carpet of the 83rd Academy Awards on Sunday, dressed in fashions that will go down in history, because let's face it-who forgets a fab or faux pas Oscar look?
In honor of the 83rd Academy Awards on Sunday, RadarOnline.com is highlighting the best, worst & wackiest Oscar fashions from over the years in a glam-packed photo feature you won't want to miss.
Article continues below advertisement
Cameron Diaz is a blonde bombshell with one of the hottest bodies in Hollywood, so when she showed up on the red carpet in 2010 wearing an impeccably embellished Oscar de la Renta gown fit for a princess, all eyes were on her.
And who can forget Michelle Williams spiking the mustard yellow trend back in 2006, when she radiated in one of Vera Wang's wondrous creations?
Academy Award winning actress Hilary Swank has landed on both the best and worst dressed lists over the years. In 2000, she claimed victory in her olive green Randolph Duke, but three years later, flopped on the carpet in a Christian Dior ensemble, which featured a sheer overlay of pink tulle.
Reese Witherspoon usually plays it safe in timeless and tasteful couture, but slipped up in 2009 in an over-the-top, blue and black Rodarte gown.
From Bjork's infamous Marjan Pejoski swan dress and Demi Moore's self-designed 1986 BMX babe meets medieval times ensemble, sometimes the biggest of fashion flops can be the most entertaining.
Another famous red carpet flub? Uma Thurman's "Swiss Miss" Christian Lacroix gown in 2004.