Lindsay Lohan Tells Radar What She Wore To Court -- 'Tres' Conservative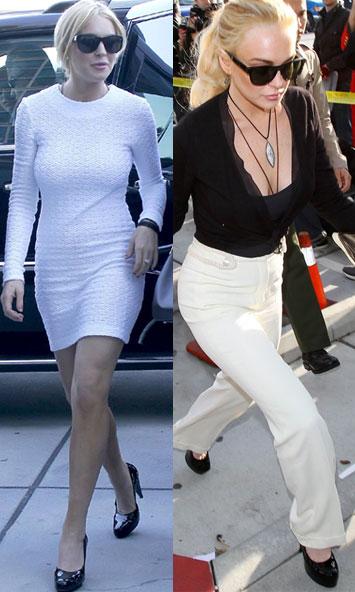 It may have been yet another another stressful appearance before a Los Angeles judge, but Lindsay Lohan took time out from the drama to fire off an email to RadarOnline.com to reveal her courtroom couture.
"Thanks Chanel, and Lanvin and YSL and Tres Glam jewelry," the 24-year-old told one of our reporters, when told via email she looked good.
You will remember Lohan's last meeting with Judge Keith L. Schwartz caused quite the stir with some commentators suggesting her super-snug, all-white ensemble was not appropriate attire for court.
Article continues below advertisement
The tight Kimberly Ovitz dress, which sells for $575, later sold out at every online boutique that carries Ovitz's designs.
This time around, however, the Mean Girls star looked dramatically more sophisticated.
She wore high-waisted, cream colored trousers with a super low-cut black camisole and cardigan combo, finishing off the look with black patent heels and two attention grabbing necklaces.
As RadarOnline.com reported, Judge Schwartz laid down the law in court telling Lohan that if she accepts a plea deal: "You WILL be going to jail, period!"