Lindsay Lohan Breaks Silence: 'I Was Not Raised To Lie, Cheat, Or Steal'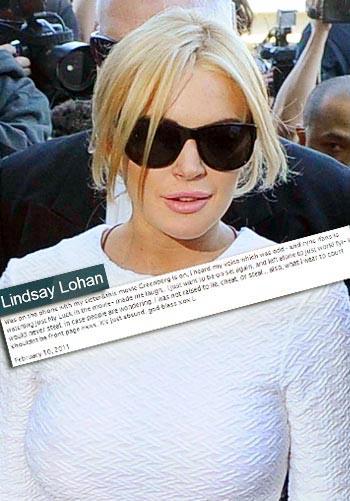 Lindsay Lohan is breaking her silence about allegedly stealing a $2,500 necklace from a Venice jewelry store and says she "would never steal," RadarOnline.com has learned.
"I just want to be on set again, and left alone to just work!" Lindsay wrote in an extended post on her Twitter account Thursday afternoon.
"fyi – i would never steal, in case people are wondering. I was not raised to lie, cheat, or steal."
Article continues below advertisement
The 24-year-old Mean Girls star appeared at a Los Angeles courthouse Wednesday afternoon after being charged with felony grand theft for an arraignment in which her probation was revoked and she posted $40,000 bail.
"what i wear to court shouldnt be front page news," Lindsay wrote, referring to the white Kimberly Ovitz dress she wore that many deemed inappropriate attire because it was too short and too tight.