PHOTOS: Kim Kardashian Channels -- And Chats With -- Elizabeth Taylor For Harper's Bazaar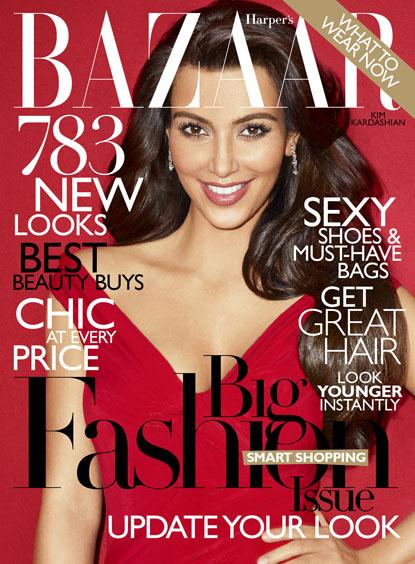 Kim Kardashian is the cover girl for Harper's Bazaar's March issue, and inside the socialite chats with iconic film star Elizabeth Taylor, who she pays tribute to in a photo spread, dressing in a Cleopatra outfit similar to the one Taylor wore in the classic film, RadarOnline.com can reveal.
"You are my idol," Kim tells Taylor in the issue. "But I'm six husbands and some big jewels behind. What should I do?"
Article continues below advertisement
Taylor responded, "I never planned to acquire a lot of jewels or a lot of husbands. For me, life happened, just as it does for anyone else. I have been supremely lucky in my life in that I have known great love, and of course I am the temporary custodian of some incredible and beautiful things.
"But I have never felt more alive than when I watched my children delight in something, never more alive than when I have watched a great artist perform, and never richer than when I have scored a big check to fight AIDS," Taylor said. "Follow your passion, follow your heart, and the things you need will come."
Kim also asked Taylor, "You have starred in movies with some of the dreamiest men of all time: Rock Hudson, Montgomery Clift, Marlon Brando, James Dean, Paul Newman, Michael Caine, and Warren Beatty... who else would you have loved to work with?"
"I love Johnny Depp, and I love Colin Farrell," Taylor said. "Both brilliant, nuanced actors with great range."
The March issue of Harper's Bazaar hits newsstands February 22, while Kim's show, Kourtney and Kim Take New York, airs Sundays on E! at 10/9c.