Justin Bieber's Secret Hotel Check-In Name Is Chandler Bing, Reveals Friends Star Matthew Perry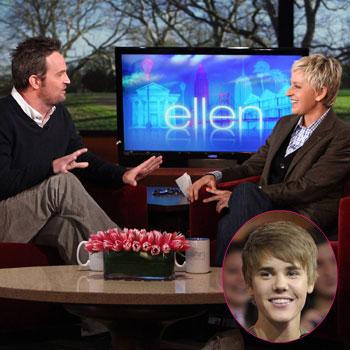 Justin Bieber was just a baby when Friends premiered in 1994, but that doesn't stop him from using the name of one of the show's characters as an alias for when he's on the road touring, Matthew Perry tells Ellen Degeneres on Tuesday's Ellen.
Perry said he found out that when Bieber checks into a hotel, he checks in under the name of Perry's Friends character, "Chandler Bing."
"Well now people know," Degeneres said.
Article continues below advertisement
"Yeah, gotta find a new one, pal," Perry joked.
"And now you can use Justin Bieber," Ellen joked. "You'd never get followed."
"Yeah, I would never," Perry said. "That's the worst name I could use!"
Perry's new show, Mr. Sunshine, premieres Wednesday at 9:30/8:30c on ABC.
RELATED STORIES:
Matthew Perry Needs His Friends After A Night Of Clubbing