NEW INTERVIEW: Courteney Cox Dishes On Old 'Friends' Jennifer Aniston & Matthew Perry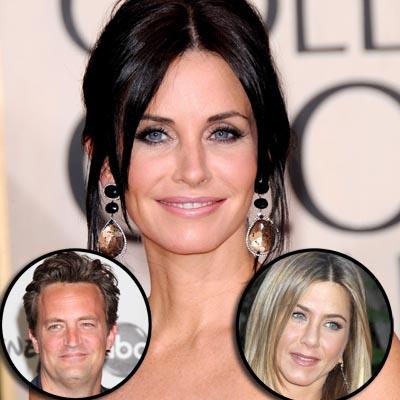 Courteney Cox talked about two old "Friends" -- i.e. her former must-see TV co-stars Matthew Perry and Jennifer Aniston -- during a Q & A panel at an entertainment industry event called the Winter TCAs (Television Critics Association) Thursday, and has all the scoop for you.
A reporter at the event told Cox they'd spoken to Perry about the show recently, and that he remarked he wished he "could go back and be a little more present."
Article continues below advertisement
Cox said, "I have a lot of things to say about what you just said -- there was a lot of reasons he wasn't present."
Cox did not go into detail as to what she was referring to, but during the run of Friends, he went through a well-documented battle with painkillers.
Cox, 46, said, "If anything, the one thing that I wish I had back in those days, which I've changed ... I'm not a competitive person at all but I am a comparative person -- I don't even want to be that. I don't want to compare any more.
"There was a lot of stuff that can mess with your ego being on a show that's a straight ensemble of six people," she said. "You're all equal, whatever. I wish I didn't spend time ever comparing. It just was a waste of time. We all have our path. We all did pretty well."
Cox said when Aniston made an appearance on Cougar Town last fall, "it felt like just fun.
"I mean it didn't feel like Monica and Rachel at all, which was great because our characters are so different. But it just felt natural. We had a ball."
Article continues below advertisement