EXCLUSIVE & PHOTOS: Tom Cruise Received Luxury Airport Hanger & Office From Church Of Scientology, Says Ex-Staffer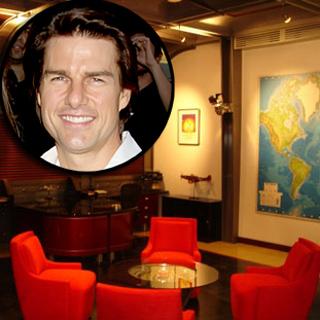 Scientology poster child Tom Cruise was gifted a luxury airport hanger and an ostentatious office as a present from the church's controversial leader David Miscavige, according to one former high-ranking staffer.
Mark Rathbun, a former Inspector General, has published these photos which show the expensive and lavish gifts -- and RadarOnline.com has them.
The hanger and the office were also "built with Church of Scientology Sea Organization member sweat and tears, labor and craftsmanship," Rahtbun claims.
Article continues below advertisement
It's outfitted with chrome steel and the office has shining dark wood desks, bars, along with aviation theme photographs on the wall.
The FBI is reportedly investigating the church for human trafficking and using free labor -- in part, according to former Scientologists, to service the demands of its celebrity icon Cruise.
Rathbun said the Mission Impossible star's hanger and office were "built with Church of Scientology Sea Organization member sweat and tears, labor and craftsmanship".
The church's Sea Org branch -- the super-secret organization within the church -- reportedly receive a mere weekly allowance, which some disaffected members have said can be as low as $50 per week, to undertake such projects.
As RadarOnline.com first revealed, the Church of Scientology supposedly also gave Cruise 'Silver Screen' -- a trailer-style bus.
Cruise used the luxury vehicle as a base for wife Katie Holmes to begin her 'Purification Rundown Program', a controversial detoxification and introductory program developed by Scientology's founder L. Ron Hubbard, Rathbun claimed.
Article continues below advertisement
While the church has denounced whistleblower Rathbun as an anti-Scientologist devoid of credibility, he and others continue to expose what they claim is a 'slave labor' force reaping the benefits of the church's low-paid laborers.
In response to the FBI probe, Scientology spokesman Tommy Davis defended Cruise, saying "whatever small economic benefit Mr. Cruise may have received from the assistance of church staff pales in comparison to the benefits the church has received from Mr. Cruise's many years of volunteer efforts."