EXCLUSIVE PHOTOS: Camille & Kelsey Grammer In Happier Times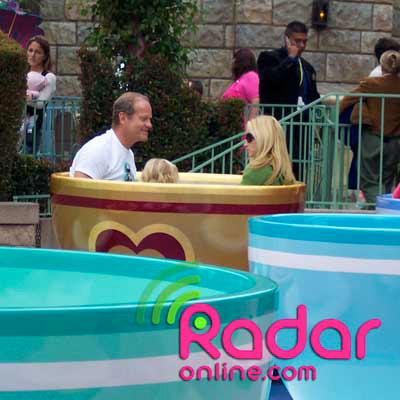 The breakup between Kelsey and Camille Grammer is shaping up to be one of the most expensive -- and scandalous -- splits in Tinseltown we've seen in quite some time, but once upon a time, the Grammers appeared to be a happy couple, and RadarOnline.com has exclusive pics of them in "The Happiest Place On Earth."
The photos -- taken several years ago and given to us by Camille's close friend Allison DuBois -- show the Grammers at Disneyland in Southern California, as well as an Independence Day party at the Hamptons.
Article continues below advertisement
Said DuBois: "We didn't take a lot of pics with them as to not make them feel under a microscope -- we just enjoyed our time together."
Camille, 42, and Kelsey, 55, announced their divorce plans on July 1, 2010, after a 14-year marriage that produced two children, Mason and Jude.
Just a month later, Kelsey announced his new girlfriend, 29-year-old flight attendant Kayte Walsh, was pregnant with their child. Sadly, Kelsey, and Kayte suffered a miscarriage, but became engaged in December 2010.