Exclusive
EXCLUSIVE PHOTO & DETAILS: Brad Womack 'Lying' Says Friend, He Did Propose To Secret Girlfriend Before The Bachelor!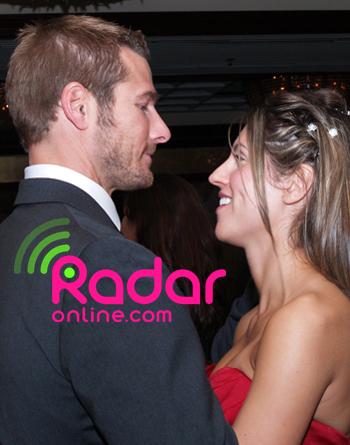 Brad Womack said it was nothing more than an "embellishment" -- so how do you explain this, Mr. Bachelor?
RadarOnline.com has exclusively obtained a never-before-seen photo of the smooth talking Texan gazing into the eyes of his hometown ex-girlfriend Laurel Kagay at a friend's wedding in Austin, Texas, in 2007.
Laurel, who dated the Austin bar owner on-and-off for eight years, sensationally claimed Brad two-timed her and even proposed to her weeks before going on the show!
Article continues below advertisement
Laurel told Us Weekly Brad's most recent proposal was made last summer, just weeks before he left to film The Bachelor for the second time.
In one text message to his sweetheart, which she shared to the magazine, Womack vowed: "You're my future, Roo. Nothing is going to change that. Laurel, I'm serious about this. Please marry me?"
The friend, who has known Laurel for 20 years but asked RadarOnline.com to keep her identity anonymous, said Brad even took Laurel ring shopping at a Cartier boutique.
Article continues below advertisement
Moreover, he also asked her parents for their blessing to marry their daughter!
"I was always his biggest fan but not after the way he ditched Laurel to go on The Bachelor, because they were offering him a ton of money," the friend said.
"Then the way he denied their relationship, basically demeaning it to nothing. I'm sorry Brad, but you have officially p*ssed me off."
The friend said Brad's erratic stream of correspondence often varied from, "I love you" to "I hate you", "I want to marry you" and "You're the love of my life" to "Please never contact me again."
One weekend, on the eve of his Bachelor casting, he even text Laurel up to 20 times pleading with her to marry him and have children together, the friend alleged.
"It never stopped," the friend said, adding that "he even contacted me to try to help him, which I was fine doing."
The friend said: "I wanted my friend to be happy and talked multiple times with Brad and tried to guide him on how to win her back."
Article continues below advertisement
But she said Brad never listed and "would just revert back to his old patterns".
"Old patterns as in him begging Laurel to go on a date with him then never showing up," she recalled.
"She would literally be dressed and ready to go and she would get the call.
"It was a vicious cycle that ended when he left to go on the show... He was downright cruel, mean and heartless about it."
The pal said she felt determined to speak out in support of Laurel, who had been dismissed in some sections of the blogosphere as coming forward in a bid to achieve her own fame.