Exclusive
EXCLUSIVE: Lindsay Says She Has Witnesses To Prove She Didn't Steal Necklace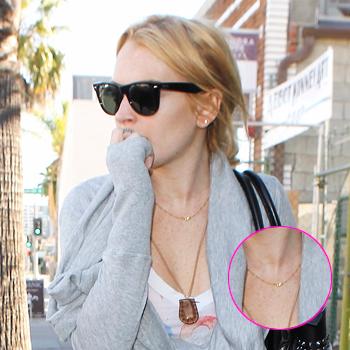 As an arrest for felony theft looms over Lindsay Lohan, RadarOnline.com has exclusively learned that she says she has witnesses who will back up her story about the allegedly stolen necklace and keep her out of jail.
NEW PHOTOS: Lindsay Arrives At Court In Santa Monica, CA. Tuesday
"There were two witnesses with Lindsay in the store who are going to tell her side of the story," a source close to the actress told RadarOnline.com exclusively.
Article continues below advertisement
"Her assistant Eleanor and her friend Patrick were with her and they saw everything and they both know that Lindsay didn't steal the necklace."
Another independent source confirmed to RadarOnline.com that Lindsay does have witnesses, although that source did not identify them.
According to the first source, the store let the 24-year-old actress take the necklace hoping she would get them publicity.
The source says Lindsay's witnesses will back this up. The store got angry because Lindsay did not get them any publicity, the source claims.
Lindsay is counting on these two eyewitnesses to back up her story the source revealed. She is hoping that having these friends corroborate her story will help keep her out of jail.
"She didn't steal the necklace and her eyewitnesses will tell the truth," the source said.
However, as RadarOnline.com previously reported, Lindsay is accused of stealing the $2,500 necklace and there is surveillance video tape recorded her in the store the day the necklace went missing. A week later, she was photographed wearing it.