EXCLUSIVE INTERVIEW: Ex-Girlfriend Of Kevin Costner, Billy Idol & Johnny Depp Publishing Kiss & Tell-All!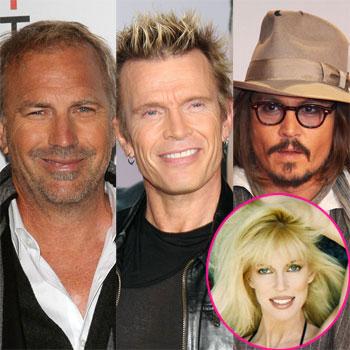 A starlet who dated a host of famous Hollywood hunks has written an explosive kiss-and-tell about her experience, and she is talking only to RadarOnline.com.
Peggy Trentini was a model and actress in the 1990's, starring in movies such as Up the Creek and B-movies like The Assault and Carnal Desires.
She also appeared on numerous TV shows including Baywatch and Married With Children. She was in a 1992 Playboy pictorial and modeled for the lingerie label Frederick's of Hollywood.
Article continues below advertisement
She dated a host of famous Hollywood hunks including Kevin Costner, Sylvester Stallone, Sting, Billy Idol, and Vince Neil, and in her new book, Once Upon a Star, the blonde bombshell opens up on the sexy secrets of the A-list, calling her book "a very sexy, fun, naughty diary of a girl dating in Hollywood."
One of the stars she had a fling with was a then newly-separated Kevin Costner, who she describes as fun and sexy but certainly no one to fall in love with!
"Kevin would have his friends bring girls to his house so he could meet as many as possible to find a hot girlfriend," Peggy, who is now in the real estate business, reveals. "He was so fun and flirty but I never took him seriously because my friends all told me he was a huge womanizer."
As for the best kisser, the budding author tells us it was Billy Idol!
"Billy was just an amazing kisser, he was so loving and attentive. And usually with rockers you expect them to be into really freaky stuff, but not Billy. He was so attentive to my needs and made sure I was having a good time."
Article continues below advertisement
Most Romantic: Johnny Depp. "I met Johnny at a Hollywood party at his house. He noticed me and started pursuing me almost immediately, but told me his name was 'Marco.' On our first date he had a picnic blanket and champagne on the roof of his house, where we made love. He was so cerebral, he would talk for hours about world issues. He was amazing."
Most Well-Endowed: A very unlikely mystery man! Peggy reveals his identity in the book, and tells RadarOnline: "The first time he took his pants off, I was like, wow!
"You don't date these guys looking for love, because they're all over the place and you just can't rely on them," she says. "But they sure were a blast and I had the time of my life!"
Peggy Trentini's book Once Upon a Star: Celebrity Kiss and Tell Stories is available at Amazon.com.
RELATED STORIES:
Kevin Costner A Dad For Seventh Time
VIDEO: Johnny Depp Is A Bieber Fan