EXCLUSIVE INTERVIEW: Dr. Frank Ryan's Mother Slams His Former Patient, Heidi Montag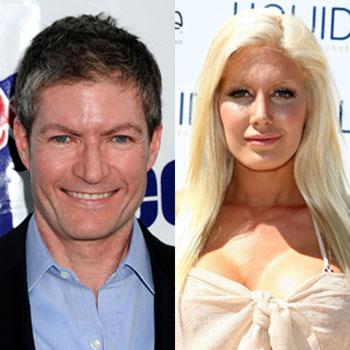 In her first interview since the death of her famed plastic surgeon son, Mary Kate Ryan has opened-up about her loss to RadarOnline.com and slammed his former patient, Heidi Montag.
Mary Kate vehemently denies claims by the reality star that Dr. Frank Ryan coerced her into undergoing extensive surgery, and branded Montag's comments about Ryan as "vindictive."
"I don't like vindictive people. He's gone now, forget it," Mary Kate told RadarOnline.com in an emotional interview as she attended the First & Hope Supper Club Benefit For Dr. Frank Ryan in downtown Los Angeles on Monday night.
Article continues below advertisement
"What she did I don't think it's right. He's gone."
Mary Kate is of course referring to an ABC Primetime Special titled Celebrity Plastic Surgery Gone Too Far? where 24-year-old Montag blamed Dr. Ryan for coercing her into undergoing numerous surgeries and for not adequately warning her about all the issues associated with plastic surgery.
During the interview Montag revealed she had had a slew of "work" done including: a brow lift, a nose job, her ears pinned back, her chin shaved, a second breast enlargement, her back "scooped out", fat injected into her cheekbones and lipo on her inner and outer thighs.
As RadarOnline.com previously reported Montag, then 23, underwent a mind boggling TEN plastic surgery procedures in just one single day, courtesy of Dr Ryan, back in November 2009, totally transforming both her face and her body.
She later claimed Dr Ryan 'misled' her, saying: "I wouldn't do it again... If I could go back, I'd wouldn't have had them...It was a lot harder than I was led on by my doctor... I didn't know how excessive it really was."
Article continues below advertisement
Mary Kate, however, says Montag asked for all the procedures herself and says that her claims are simply ridiculous.
"One minute she says his hands were created by God and the next minute she's saying she's upset with her body," Mary Kate told RadarOnline.com. "This woman's statements are not true. Everyone knows that's not true. There were people present during the consultations she had with my son. Unfortunately, it's the world we live in and it's sad."
Mary Kate, who looked elegant in a sky blue evening gown, insists her son was not texting nor talking on his cell phone when he tragically drove his 1995 Jeep Wrangler off a cliff on Pacific Coast Highway in Malibu last year on August, 16, leading to his early demise. Instead, she claims Ryan's dog Jill distracted him.
"I'd say the dog Jill she has very strong hunting instincts," Mary Kate said. "She will chase a plane in the sky and even a bird. If she'd seen a pelican or a seagull, she would have tried to jump and I think he grabbed her and that caused him to steer off. That's the way I feel."
Article continues below advertisement
Dr. Ryan loved his dog but that's just the beginning. The late plastic surgeon even owned a ranch where he housed many types of animals. Mary Kate says that one of his neighbors bought his ranch following his death and even took all the animals as well, and that they are all safe and sound.
Mary Kate says she misses her son and hopes that Monday's benefit will remind people of the good man Dr. Ryan was and how he was a pillar in the community.
"Today means something for my son," she said as she began to cry. "We're going to keep his legacy alive. He did a lot of good. He worked hard for where he is by himself. It wasn't just given to him."
As for Montag, Mary Kate says she has absolutely no hard feelings toward her - instead, she feels sorry for the reality star.
Heidi Montag Fights Back After Bravo Exec Calls Her 'Trash'
"She's young," Mary Kate says. "She'll find out when she gets older about the world she lives in."