EXCLUSIVE INTERVIEW: Brittny Gastineau Feels 'Bad' & 'Sad' For Lindsay Lohan, Loans Her Jewelry For Court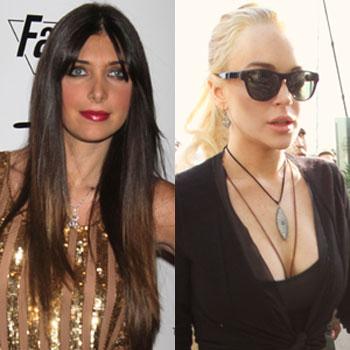 Brittny Gastineau came to Lindsay Lohan's rescue on Tuesday, when the court-bound starlet didn't know what to wear for her Wednesday meeting with Judge Keith Schwartz, loaning her about $5,000 worth of bling.
RadarOnline.com spoke to the reality show star and Tres Glam jewelry designer, where she dished on Lindsay's troubles -- including her courtroom wardrobe dilemma.
"We have been friends for a long time and I feel really sad for her," Brittny told Radar.
Article continues below advertisement
"Everyone has their opinion about what happened, but I just feel bad for her. She has just had such a hard time, and hopefully this will be the last of it."
Lindsay and Brittny spoke on the phone on Tuesday night about the impending court hearing, and Lindsay revealed that needed some help with her court fashion.
"I spoke to Lindsay last night and she was concerned about the trial and wondered what she should wear," Brittny revealed to Radar.
Brittny loaned her longtime pal an "anti envy diamond protection eye necklace," worth $3,000 and Heart Locket earrings, which sell for $1,800, to bling out her Chanel, Lanvin and Yves Saint Laurent ensemble.
"I thought my Diamond Protection Eye Anti Envy necklace would be a good idea under the circumstances," explained Brittny.
Lindsay isn't the only celebrity to get a little "anti-envy" protection in the courthouse! Naomi Campbell rocked one of the necklaces when she was called to testify at the blood diamond war crimes trial of Charles Taylor, the former President of Liberia.