EXCLUSIVE INTERVIEW: Alana Stewart Insists There Is No Controversy Over Donation Of Farrah Fawcett Swimsuit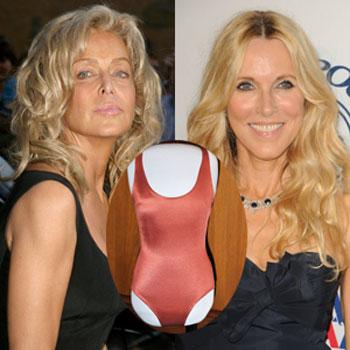 Alana Stewart has told RadarOnline.com that there is NO controversy surrounding Ryan O'Neal's donation of Farrah Fawcett's famous red swimsuit to the Smithsonian Museum.
Several observers were surprised that the late star's former life partner handed the bathing costume over to the illustrious historical exhibition because it had not actually been left to him in her official will.
But Fawcett's life-long friend - who also attended Wednesday's moving presentation in Washington D.C. – has revealed that everything was above board and that the former Charlie's Angels pin-up would have been thrilled with the gesture.
Article continues below advertisement
She said: "I want to make it perfectly clear that there is no controversy – Farrah's nephew Greg Walls was left the bathing suit in her will as well as several other personal items.
"And Greg was the person who signed it over to the Smithsonian although Ryan actually presented it during the ceremony.
"Farah would have been delighted about this presentation as now this famous red bathing-suit belongs to the American people
"It was a wonderful gesture and befitting my special friend whom I knew for over 30 years – it was a really emotional and meaningful event with Redmond and other family members in attendance."
The ceremony reduced Ryan O'Neal to tears on what would have been Fawcett's 64th birthday as the famous bathing costume plus a signed copy of the iconic 1976 poster that featured the Charlie's angels star plus several other items were donated.
Article continues below advertisement
The famous blonde actress died on June 25, 2009, after finally losing a long battle with cancer at the age of 62.
Her life-long friend Stewart revealed that she still misses Farrah whom she considered as 'a sister'.
VIDEO: Ryan O'Neal Talks About Farrah One Year Later
"I miss her like a sister would. We had great banter, companionship and warmth, and she was a true friend and we bonded very closely.
"But I'm sure that she would have been thrilled that she will now be remembered in such a famous institute like the Smithsonian Museum, it is fitting tribute to her memory."