Exclusive
EXCLUSIVE: Former BFFs Kim Kardashian & Paris Hilton Make Peace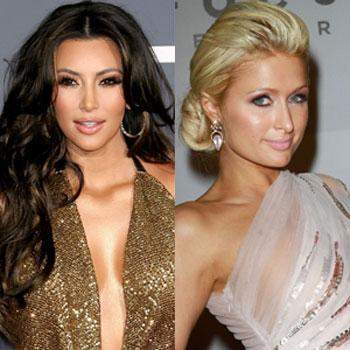 If there was a war, it's over now.
Former BFFs Kim Kardashian and Paris Hilton have been rumored to be feuding since their once-close friendship fizzled, but they looked like best pals on Sunday night a the Interscope Grammy after-party where Lady Gaga was performing.
Kim approached Paris and gave her a hug, an eyewitness tells RadarOnline.com exclusively, surprising anyone who still thinks they are on the outs.
Article continues below advertisement
"Kim approached Paris. Paris was with her mom, and sister, Nicky," the eyewitness told us. "Paris and Kim warmly embraced and genuinely seemed happy to see each other, which seemed to surprise fellow party-goers.
"Kim wished Paris a happy birthday (Paris' birthday is Feb 17th), and Kim complimented Paris on her outfit. Paris also complimented Kim and thanked her for the kind things she said about Paris in the Haper's Bazaar interview.
"Kim was extremely classy in approaching Paris."
Paris, at an Usher concert at the Avalon last week, told RadarOnline.com, exclusively: "I'm really happy for Kim. I wish only the best for her. Kim is very successful, and I hope that continues for her."
It is a turnaround for the pair, who were once pre-school pals.
While the hotel heiress gave the daughters of OJ Simpson lawyer Robert Kardashian their first big break in the fame game, their relationship grew colder about four years ago.
Article continues below advertisement
In the Bazaar interview, Kim recalled: "We had so much fun... I had never traveled the world like that. It was so neat, all the things we did. I think I learned a lot from her."
The Kourtney & Kim Take New York star admitted "we don't really talk" and added, "everyone comes into your life for a reason, a season, or a lifetime".
"She was in my life for a long time," Kim said.
"There comes a point in life where you just grow apart and you realize you're not as similar as you thought."