EXCLUSIVE: Charlie Sheen: Lawyers Examining Chuck Lorre's Vanity Cards As Legal Fight Looms, Tells 'Men' Creator 'Oops!'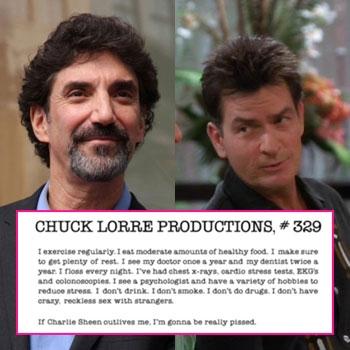 As Charlie Sheen's public war with Two And A Half Men producer Chuck Lorre rages on, Sheen told RadarOnline.com exclusively that Lorre's vanity cards could be used as evidence against the Hollywood producer, should he decide to take legal action in the wake of the show's shutdown.
Lorre, whose resume includes TV hits like Dharma & Greg, The Big Bang Theory and Mike & Molly, is known for his creative use of vanity cards, the bumpers that air for a split second at the end of his shows. In the wake of growing problems between star and producer, the vanity cards have taken on a different tone, and Sheen said he can use it to his advantage.
Article continues below advertisement
"Defeat is not an option, period the end," Sheen told RadarOnline.com exclusively. "These people want to live in the middle, 'I love and I hate, and I hate you right now...'
"You're gonna lose, you're gonna lose and you left all your evidence on your vanity cards -- oops!" the TV star told RadarOnline.com in a world exclusive interview. "All my lawyer needs, you wrote -- I'm winning!"
As RadarOnline.com previously reported, Lorre first addressed the Sheen controversy after the February 14 broadcast of Two and a Half Men, when he wrote, "I exercise regularly. I eat moderate amounts of healthy food. I make sure to get plenty of rest. I see my doctor once a year and my dentist twice a year. I floss every night. I've had chest x-rays, cardio stress tests, EKG's and colonoscopies. I see a psychologist and have a variety of hobbies to reduce stress. I don't drink. I don't smoke. I don't do drugs. I don't have crazy, reckless sex with strangers.
Article continues below advertisement
"If Charlie Sheen outlives me, I'm gonna be really pissed."
Next up was a message that followed the February 21 broadcast of Mike & Molly, when he wrote: "It was more fun writing these things when I was fairly certain no one was reading them. That is no longer the case. These days it seems like every vanity card is getting scrutinized and criticized by network executives, corporate legal departments and publicity departments, TV journalists and tabloid bloggers.
"Believe it or not, my musings have been both cheered and jeered by TV Guide! But lately it's gotten out of hand. Which is why I've decided to take a break for a few weeks. Let things cool off a little. Instead of writing short essays that upset people, I've decided to use my one second of network TV to do something simple and hassle-free. Starting with this card, I'm going to display a photograph of a part of my body that is entirely innocuous."
Article continues below advertisement
"No longer will I share some troublesome piece of my mind. Now I will share an actual piece of Chuck that is incapable of offending anyone. You know, a foot, a hand, or maybe a toe. So with that in mind, behold..." (He displayed a picture of his elbow.)
After last week's meltdown, Lorre ended Thursday's episode of The Big Band Theory with the simple message: "CENSORED!"
Stay with RadarOnline.com for more news on the Charlie Sheen scandal as it breaks.