EXCLUSIVE BLOG: Jesse Csincsak's Review Of The Bachelor: 'Michelle, You Are Bat -- Crazy!'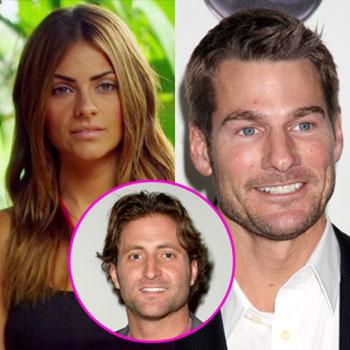 Jesse Csincsak -- the free wheelin', free spirited professional snowboarder who won the fourth season of The Bachelorette -- is exclusively blogging for RadarOnline.com, and he's here to give his candid takes on the 15th season of The Bachelor, featuring the return of Texas bartender Brad Womack.
Wow, where do I start ? I am gonna use a quote that my boy David Good always uses: MICHELLE, YOU ARE BAT---- CRAZY!
Article continues below advertisement
EXCLUSIVE BABY PHOTOS: Bachelor Pad's Kiptyn & Tenley -- Before They Were Famous
This is not Big Brother, you can't just sit down, crack open a bag of pop chips and make some alliance with Brad on who he should send home next!
I think you are the only person who could find a way to complain about something as amazing as winning the lottery, you would find a way to b----, moan and whine about any situation.
For God sakes, you have been on the show for about a month now, all expenses paid, traveling the world and yet every week -- whine, whine, whine -- DO US ALL A FAVOR & SHUT UP ALREADY!
Wow I feel better now.... OK, onto the show...
I am sure by this point, everyone has asked themselves, 'What does the huge cross tattoo on Brad's back mean?'
Well, right above the cross its says, "Prosapia" -- it's Latin for family and also means strength and honor.
Article continues below advertisement
CHANTAL O: I have been to Costa Rica and let me tell you IT'S AMAZING! I LOVED THAT YOU STEPPED UP AND SAID, 'I LOVE YOU' TO HIM TONIGHT! We pretty much can end the show next week as far as I am concerned ... there is no other connection that Brad has with any other girl that even comes close to comparing ...
PHOTO: Jesse Csincsak and Ann Lueders Expecting
Alli: Brad wanted to know, 'Are these girls adventurous?' Well, apparently Brad didn't think Alli was ... He showed up for the date on a beautiful quarter horse, and brought Alli a mini-horse donkey hybrid. She freaked out in the bat cave, and got the boot in a very awkward lagoon Island date. I personally liked Alli on this season of the show, she seemed sweet. Apparently production was having some technical difficulties with their romantic floating island, because it was sinking during the filming when Brad was trying to talk her down gently before sending her home.
She proceeded to cry almost as much as my 5-day-old son when he wants to eat ...
Oh and YES, Ann & I welcomed our first son, Noah Theodore Csincsak, into the world on February 2, weighing a healthy 7 pounds, 2 ounces.
We are sooo excited to have been blessed with our first child!
The Bachelor airs Monday nights on ABC.
RELATED STORIES:
VIDEO: Brad Womack Apologizes To Jilted Bachelorettes In season 15 Premiere