EXCLUSIVE: Beverly Hills Plastic Surgeon Dishes On Latest Trends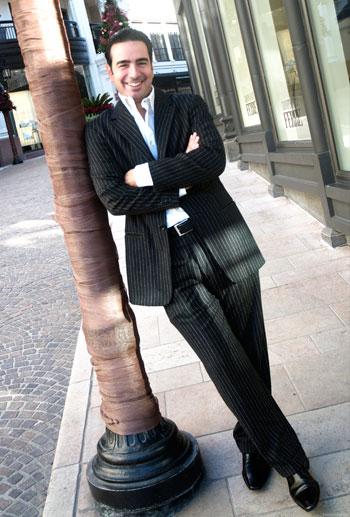 Dr. John Anastasatos has been nipping and tucking Hollywood's most fabulous faces for years. The Beverly Hills based MD, who is known for using the latest plastic surgery techniques on his devoted patients, took some time out of his busy schedule to talk with RadarOnline.com about the latest state-of-the-art trends in plastic surgery.
The Dracula Lift: Should we surprised that the Vampire trend has trickled into the cosmetic surgery? This new procedure takes blood from the patient, which is then separated by a machine into some of its' blood components. Putting the fibrin, platelets and the serum into a syringe, they are used to inject trouble areas, like bags under the eyes and nasolabial folds. Does it work? Dr. Anastasatos maintains that it may offer a mild improvement for some people, but in general the effects are not very impressive, lasting on average a few months. However, it is a great alternative for people who do not want to inject synthetic fillers into their body. Cost: about $2,000 per treatment
Article continues below advertisement
Brazilian Butt Lift: Want Kim Kardashian's booty? This fat transfer procedure removes fat from problem areas of your body with liposuction, and after the fat is cleansed, it is injected into your buttocks. The result is an overall reshaping of your body, through the redistribution of fat. But this procedure isn't for everyone! You must have the ample amount of fat on your bones to provide 300-600 cc of fat per buttock to show any noticeable results. Cost: about $8,000-$10,000
Fat Burning Machines: Is it possible to simply melt the fat away? Using laser or radiofrequency technology, these machines are applied to problem areas to melt away some of the superficial fat, penetrating no more than 2-3 cm from the surface. Though it takes at least four, back-to-back one-hour treatments and months to see results, it has been proven effective for people who want to correct small problem areas. Cost: about $6,000 for complete therapy
Article continues below advertisement
Skinny Legs By Botox: Too good to be true? Dr. Anastasatos invented this technique, which uses Botox injections into the leg muscles to make the legs thinner. He maintains that it has proved to be extremely effective with his patients, and is the perfect short-term fix for women who want to look their very best for major events like weddings, Oscars, etc. The entire procedure takes 30 minutes to complete, is done in the office and there is no downtime. The only downside is that Botox has to be repeated every few months. Cost: about $2,500 per treatment.