EXCLUSIVE: A Closer Look At Charlie Sheen's Nemesis: Two And A Half Men Creator Chuck Lorre; His Latest Vanity Card -- 'CENSORED!'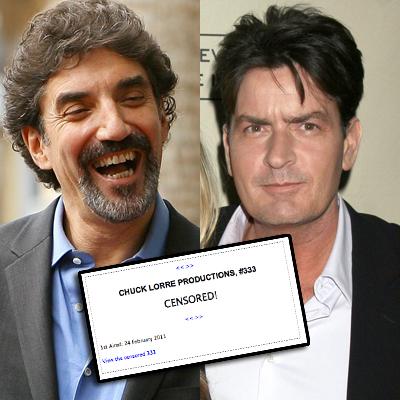 On the same day Charlie Sheen spewed a hateful and bizarre rant against Chuck Lorre -- the creator and executive producer of Two and a Half Men --Lorre (perhaps) chose to take the high road Thursday night by flashing the word "CENSORED!" at the end of the closing credits to another of his hit shows, The Big Bang Theory.
See Chuck Lorre's Recent Vanity Cards
Since we're already well aware of Sheen and his resume, RadarOnline.com's taking a closer look at the man he's gone to battle with.
Article continues below advertisement
Lorre, who's real name is Charles Michael Levine, is the man responsible for producing a stream of hot sitcoms, including Grace Under Fire, Cybill, Dharma & Greg, The Big Bang Theory and most recently, Mike & Molly. The 58-year-old also served as a writer and producer on Roseanne for two seasons in the early 90s.
One of the successful producer's trademarks is his creative use of vanity cards, the bumpers that air for a split second at the end of his shows.
In recent weeks, the vanity cards have taken on a different tone in light of Sheen's regular spot in the tabloids with his non-stop antics.
Lorre first addressed the Sheen controversy after the February 14 broadcast of Two and a Half Men, when he wrote, "I exercise regularly. I eat moderate amounts of healthy food. I make sure to get plenty of rest. I see my doctor once a year and my dentist twice a year. I floss every night. I've had chest x–rays,cardio stress tests, EKG's and colonoscopies. I see a psychologist and have a variety of hobbies to reduce stress. I don't drink. I don't smoke. I don't do drugs. I don't have crazy, reckless sex with strangers.
Article continues below advertisement
"If Charlie Sheen outlives me, I'm gonna be really pissed."
Next up was a more strained message that followed the February 21 broadcast of Mike & Molly, when he wrote: "It was more fun writing these things when I was fairly certain no one was reading them. That is no longer the case. These days it seems like every vanity card is getting scrutinized and criticized by network executives, corporate legal departments and publicity departments, TV journalists and tabloid bloggers.
"Believe it or not, my musings have been both cheered and jeered by TV Guide! But lately it's gotten out of hand. Which is why I've decided to take a break for a few weeks. Let things cool off a little. Instead of writing short essays that upset people, I've decided to use my one second of network TV to do something simple and hassle-free. Starting with this card, I'm going to display a photograph of a part of my body that is entirely innocuous."
"No longer will I share some troublesome piece of my mind. Now I will share an actual piece of Chuck that is incapable of offending anyone. You know, a foot, a hand, or maybe a toe. So with that in mind, behold..." (He displayed a picture of his elbow.)
After this week's meltdown, Lorre ended Thursday's episode of The Big Bang Theory with the simple message: "CENSORED!"
(We can't help but wonder what Lorre would have liked to have said...)