Elton John Gives Billy Joel 'Tough Love' Over Alcohol Abuse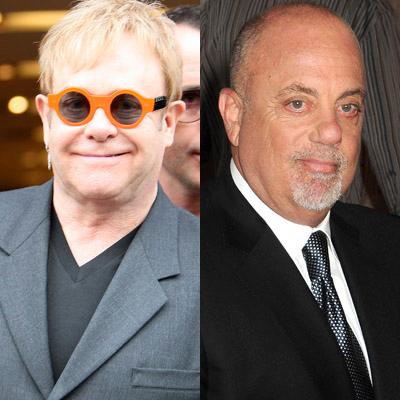 Elton John warns his friend and fellow piano master Billy Joel to quit drinking in the new issue of Rolling Stone, RadarOnline.com has learned.
John pulled no punches in his assessment of the 61-year-old Uptown Girl singer, laying into him for resting on his laurels professionally while indulging in his vices.
"At the end of the day, he's coasting," the Bennie And The Jets singer, 63, told the magazine. "I always say, 'Billy, can't you write another song?' It's either fear or laziness. It upsets me. Billy's a conundrum. We've had so many cancelled tours because of illnesses and various other things, alcoholism."
Article continues below advertisement
John, who's admitted his own battles with substance abuse in the past, said that Joel's half-hearted attempts at rehabilitation have done little to quell his drinking.
"He's going to hate me for this, but every time he goes to rehab they've been light," John said. "When I went to rehab, I had to clean the floors. He goes to rehab where they have TVs."
The Kiss The Bride singer had a heartwarming, caring message for his musical colleague.
"I love you, Billy, and this is tough love. Billy, you have your demons and you're not going to get rid of them at rehab light. You've got to be serious.
"People adore you, they love you and respect you," John said. "You should be able to do something better than what you're doing now."
Proud Papas Elton John & David Furnish Show Off New Son
The new issue of Rolling Stone hits newsstands Friday.
RELATED STORIES: