VIDEO: Michael Douglas Says He's Tumor-Free, Says 'Odds Are... I've Got It Beat'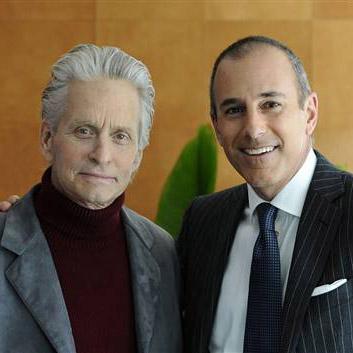 Michael Douglas -- in an interview with The Today Show's Matt Lauer -- says that the stage IV cancerous tumor in his throat is now gone.
Watch the video on RadarOnline.com
Douglas told Lauer he's "relieved" to be over the worst part of his battle, as the tumor in his throat is gone thanks to an aggressive, eight-week regimen of radiation and chemotherapy he said he wouldn't wish on his worst enemy.
"The odds are with the tumor gone, and what I know about this particular type of cancer, I've got it beat," the Oscar winning Wall Street star said.
Article continues below advertisement
Douglas discussed the side effects he's endured as result of the grueling medical regimen.
"Salivary ducts have been closed down as a result of the radiation, probably for at least a year or two," Douglas said, adding his mouth is very dry as a result. "I've put about 12 pounds back. But, I mean, I got another 20, 25 to go."
Visit msnbc.com for breaking news, world news, and news about the economy
Douglas also talked to Lauer about how his kids, son Dylan, 10, and daughter Carys, 7, coped with his cancer diagnosis, which they knew about from the get-go.
"It's a very scary word. But I told them it was hopeful. And I also took them down to a couple of radiation treatments. So they came into the room and they saw all the Star Wars treatment going around," Douglas said. "And they saw them put the radiation mask on your face, 'cause they have to kind of bolt you down like Hannibal Lecter or something. At that age it was good for them. They thought it was cool, you know, all this space age stuff.
Article continues below advertisement
"With the amount of paparazzi that they have and these video cameras, you know, you just can't do anything," the actor said. "And I resent the amount of imposition on our children, too, because it used to be at least the paparazzi would try to keep them out of that and they don't at all.
"But they were having -- there was sort of a macabre enjoyment out of sort of watching me go down there for a while, I felt, by the paparazzi."