VIDEO: Kim Kardashian Not Worried About Overexposure, Gives Details On New Dance Single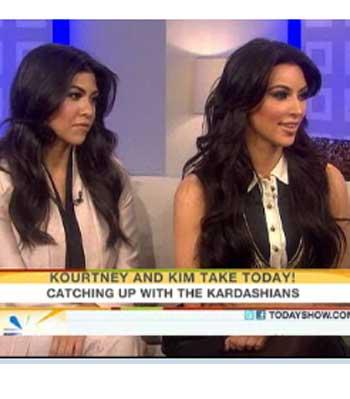 Kim and Kourtney Kardashian appeared on The Today Show Wednesday to promote the new season of Kourtney and Kim Take New York, and the reality stars chatted with host Matt Lauer about whether or not they're overexposed, as well as Kim's upstart music career.
Lauer asked Kim, "Do you ever worry it's too much? You were here not long ago with Khloe ... you have the books and the shows ... do you ever worry you do too much?"
Article continues below advertisement
"You know, I think we haven't really worried yet," Kim said. "We do turn down so many projects, because we don't want to have our hands in everything -- but when great things come along, we take advantage of that."
With that being said, Kim opened up about her music career, as she's gearing up to release her new dance single, tentatively titled "Turn It Up."
I partnered with The Dream, who wrote and produced an amazing song," she said. "Him and Hype Williams shot the video. It's really different for me. I'm just having fun, and half the proceeds go to a cancer organization."