VIDEO: Kelly Preston Calls Benjamin Her 'Miracle Baby', Explains 'Silent Birth'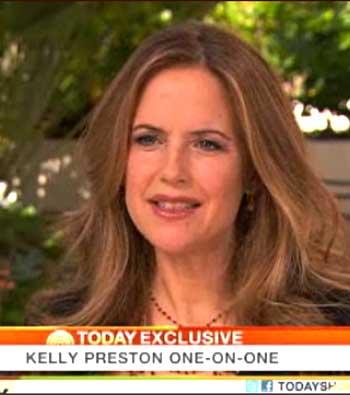 In her first TV interview since giving birth November 23 of last year, Kelly Preston opened up on The Today Show Wednesday about her "miracle baby" with hubby John Travolta -- newborn son Benjamin Hunter Kaleo.
"It's so wonderful to bring another child into the world and to look at things through his eyes," Preston said of Benjamin. "He's so innocent and just so sweet."
Article continues below advertisement
The Jerry Maguire star said Travolta picked out Benjamin's name, as "it's really a great boy's name and a man's name. It's also a gentle name, and he is -- he's just peaceful and gentle.
During the interview, Preston also explained something called "silent births" -- a controversial practice that is quite common in John and Kelly's Scientology religion. "Silent birth is basically just no words as much as possible," Preston said. "If you need to moan, if you need to cry out ... of course that's normal. But, it's just bringing them in, in as peaceful and gentle a way as possible."
As RadarOnline.com previously reported, Benjamin's the third child for Travolta and Preston, who said the new baby is helping her heal just more than two years after the tragic death of her 16-year-old son, Jett.
Preston, 48, called Benjamin a "miracle baby," after trying to conceive "for quite a few years.
"I just think any time you get pregnant at this age, it is a miracle," the Hawaii native said.
Article continues below advertisement