Sister Of Murdered Vegas Showgirl Yells At Suspect In Court: 'I Hope You Rot In Hell'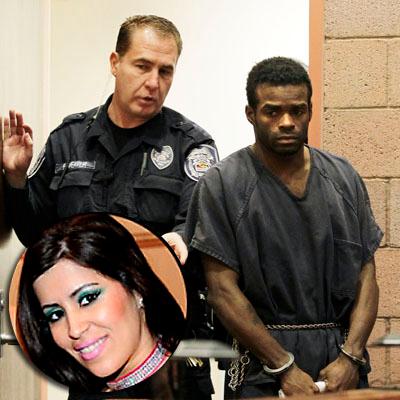 The sister of murdered Vegas showgirl Debbie Flores-Narvaez screamed at the suspect during his court appearance Wednesday morning, saying, "I hope you expletive rot in hell for what you did to her. I hope you rot in hell." Celeste Flores-Narvaez then left the courtroom in tears.
The outburst came as Jason "Blu" Griffith -- Debbie's one-time boyfriend -- made a brief appearance in a Las Vegas courtroom for his arraignment on charges related to her gruesome murder.
Article continues below advertisement
During the hearing, the charges (murder, domestic violence and destruction of evidence) were read aloud to Griffith, who was wearing a blue jumpsuit with his hands shackled. When Judge Chris Lee asked if he understood the charges, Griffith calmly responded "yes". An automatic plea of "not guilty" was then entered on his behalf.
The judge then set a preliminary hearing date of February 15. At that time, a judge will decide if there is enough evidence to order him to stand trial.
Until his next court appearance, Griffith remains held without bail at the Clark County Detention Center.
As RadarOnline.com previously reported, Flores-Narvaez, 31, was reported missing December 14 after missing rehearsal for her production, the Luxor's Fantasy show. Her dismembered remains were found in a downtown Las Vegas home last Friday, placed in cement-filled tubs. An autopsy showed she had been choked to death.
Article continues below advertisement
Griffith, 32, was arrested Saturday in Las Vegas and charged with her murder. He'd dated the showgirl for the better part of the past year, and had previously been arrested on charges of domestic-violence-related battery and coercion, in connection with an October 22 incident with the dancer.
He's being represented by a public defender in the murder case.
As RadarOnline.com previously reported, a text message Flores-Narvaez sent to her mother December 1, days before she disappeared, read: "In case there is ever an emergency with me, contact Blu Griffith in Vegas. My ex-boyfriend. Not my best friend."