Roger Ebert Loves His New Face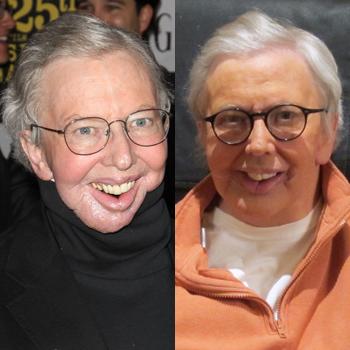 Roger Ebert showed off his "new face," as he calls it when his Roger Ebert Presents At the Movies premiered Friday night, RadarOnline.com is reporting.
The courageous veteran film critic, who lost part of his jaw to thyroid cancer four years ago, is back with a silicone prosthetic chin that is strikingly realistic.
The experts he worked with "did a pretty wonderful job," Ebert, 68, wrote on his blog.
Article continues below advertisement
Most of the new PBS show is carried by two much younger reviewers, Christy Lemire and Ignatiy Yishevetsky. Because Ebert still can't speak, his one review of the evening was done via voice-over with Roger typing away on his computer.
VIDEO: Roger Ebert Gets Standing Ovation At Spirit Awards
Regardless of the show's future, Ebert's candidness about his cancer and his brave battle against the disease have won him two thumbs up from fans everywhere.
RELATED STORIES:
VIDEO: Thanks To A Computer, Roger Ebert Speaks
Steve Jobs Takes Medical Leave From Apple
John Mellencamp Gives Meg Ryan Two Thumbs Up As Ebert & Roeper Guest Critic
VIDEO: Michael Douglas' Classy Return At Golden Globe Awards