Piers Morgan: Want Oprah? You Gotta Go Through Gayle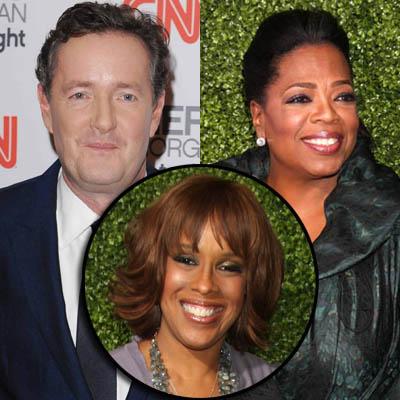 CNN's new talk show host Piers Morgan learned what everyone has always suspected: to get to Oprah Winfrey you've got to go through Gayle King.
Morgan, who is taking over for Larry King, scored a major coup landing Oprah as his first guest and now he's revealed how he did it.
Oprah and Other Celebs Attend The Kennedy Honors
"I had to seduce Gayle King by e-mail, which I did very successfully for a sustained period of time," Morgan told CNN.
Article continues below advertisement
"A great sort of digital courtship. And if you get to Gayle you get to Oprah!"
Oprah Visits Ayers Rock in Uluru, Australia
Gayle and Oprah have been BFFs forever and ever and ever, as everyone knows. (And no, they say, they are NOT lesbians!)
So what does Oprah dish to Piers? She's not telling but she did say to CNN: "That's one of the toughest interviews I've had in 20 years!"
And Gayle's isn't spilling about the show either. "Piers is good, may I just say that He is really good," Gayle told CNN. "He's got a great sense of humor; he doesn't backtrack; he goes another way to get the question. He's good. It was fun watching him with Oprah."