PHOTOS: Spain's 5 Hottest Women!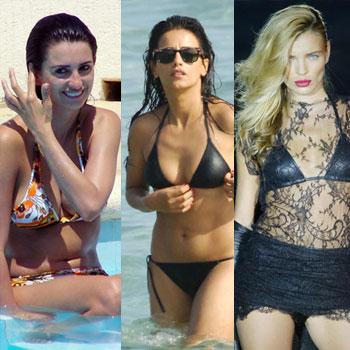 Chorizo isn't the only spicy Spanish export.
The European country is home to some of the most exotic beauties in the world, as well as the hottest bikini babes. RadarOnline.com has reviewed the all of the sexy competition (a tough task, to say the least!) and narrowed it down to the five, hottest Spanish beauties. Click the next sentence to see Spain's 5 hottest women stripped down into their sexy bikinis.
Article continues below advertisement
Click Here To See Spain's 5 Hottest Women In Their Bikinis
While Penelope Cruz is by far the most famous Spanish actress, her little sister Monica is just as sexy! Monica, who is an actress and dancer, looks so much like her Academy Award-winning sibling, that she was used as a stand-in on Pirates of the Caribbean: On Stranger Tides when Penelope started rocking a baby bump.
When it comes to Spanish supermodels, Esther Canadas is queen of the catwalk. The sultry strutter has graced the cover of nearly every fashion magazine, as well as the pages of the Victoria's Secret catalogue. The big-lipped bombshell is without a doubt, one of the sexiest Spaniards.
See Esther stripped down here.
Elsa Pataky made her stateside debut in Snakes on a Plane, and is quickly establishing herself as a bigscreen babe. After dating Adrien Brody and Olivier Martinez, the booty and boobilicious star married Hollywood hunk Chris Hemsworth in December. Sure to make hearts race in the upcoming film Fast Five, this sexy star is soaring to superstardom.
See Elsa topless and baring all by clicking here.
And finally, when it comes to Spanglish, Paz Vega is fluent. The sexy actress crossed over to the American bigscreen when she played Adam Sandler's love interest in the 2004 film. Sexy and talented, Paz is quickly making a name for herself. But, sorry boys! This bikini babe has been married to Orson Salazar since 2002.
RELATED STORIES: