NEW PHOTOS: Meg Ryan & John Cougar Mellencamp's Hearts Still Thumpin' (For Each Other)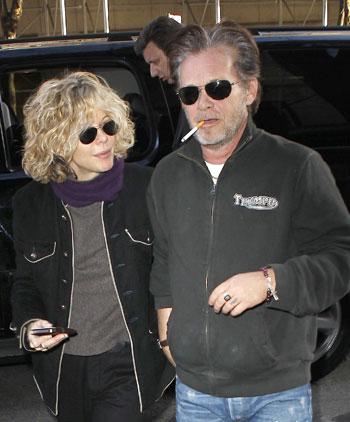 Love (and cigarette smoke) was in the air as John Cougar Mellencamp stepped out with Meg Ryan yet again, in these new photos obtained by RadarOnline.com.
The divorcing singer has been spending lots of time with Meg and sources confirm what Mellencamp has not – they are a couple.
In these new photos, Jack and Diane, er John and Meg, step out of a car together in New York and Meg seems enraptured by her new beau, who coolly stares ahead, with a lit cigarette in his mouth. (For the record, the singer had a heart attack in 1994 and took off more than a year).
Article continues below advertisement
John's son, Speck, started a Facebook campaign in 2009, asking one million people to join a group and then John would quit smoking. (Looks like that didn't work out so well.)
But Meg at 49 is still smokin' hot and was apparently pals with John and his wife during the marriage. Now, as you can see, things have changed.
RELATED STORIES:
Meg Ryan And John Mellencamp Take Their Relationship Public In Small Town