Jodie Sweetin's Surprise Birthday Gift - An Engagement Ring!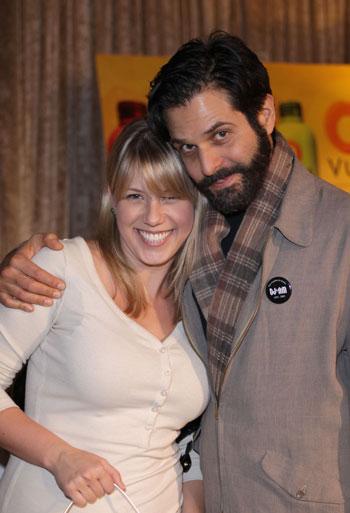 Jodie Sweetin got the best birthday gift she could of ever hoped for on Tuesday – an engagement ring from her boyfriend, Morty Coyle.
Coyle presented the former Full House star with a gorgeous 2½-carat oval sapphire ring, surrounded by 18 diamonds in a snowflake shape, at her 29th birthday party last night at the Kibitz Room in LA.
"It was a complete surprise," Sweetin tells People, "We are just thrilled and I am in shock still!"
Article continues below advertisement
Coyle, who is father to the couple's 5-month-old daughter, Beatrix, completely blindsided the actress, going down on one knee in front of their friends and family to pop the question.
"I was glad that everybody was there," Sweetin says. "People videotaped it, it was great."
Still, the newly engaged couple are in no hurry to rush down the aisle. "We are in no hurry as far as dates or anything like that," says Sweetin, who, along with Coyle is a big advocate for gay marriage rights.
"We want to wait until there's equality for everybody to get married," Coyle tells People.
And if that's still some time in the future, they say they are happy to wait. "That's okay," says Sweetin. "We were absolutely committed before this, anyway. We're just so excited."
Sweetin and Coyle, who works as a DJ, have been dating for over a year. The actress has battled drug addiction in the past, but has been sober for over two years now.
Article continues below advertisement
She also has a two-year-old daughter Zoie with her second ex-husband Cody Herpin. She married Cody, a transportation coordinator, in July 2007 but separated a year later. After a nasty divorce battle, they were granted joint custody of their daughter in April, 2010.
Jodie's first marriage was to police officer Shaun Holguin when she was 20. The marriage ended four years later.
RELATED STORIES: