INTERVIEW: Steven Tyler On American Idol's New Judges: There's Love You Haven't Seen In 10 Years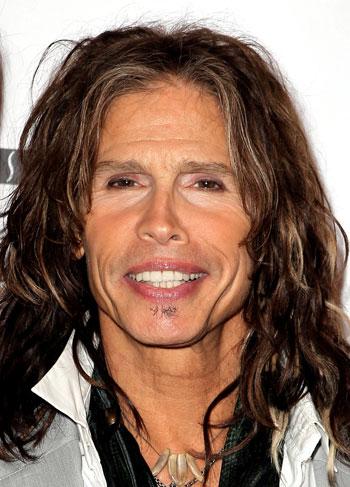 No Simon but lotsa love.
Steven Tyler says that on the new season of American Idol viewers will see a love among judges that they haven't seen in 10 years.
"I think there's love up there and certainly there's camaraderie that you haven't seen in 10 years," Tyler said in a conference-call interview Tuesday. "And about that, I'm really happy that I get along with Randy so well. JLo is a fox and she's also street and she also had a big heart."
Article continues below advertisement
VIDEO: Steven Tyler Says Snorting Sleeping Aid Cause Him To Fall Off Stage
So while he never mentioned the ubiquitous Simon Cowell, it's clear that the Fox mega-hit has turned in a different direction with the departure of its ratings-magnet judge.
In very un-Simon-like fashion the Aerosmith frontman gushed as he talked about JLo, saying: "On the way from England to America, I saw JLo's movie The BackUp Plan and I fell in love with her. I'm watching her going, 'Oh my God, it's Jennifer Lopez.'
"And I watched her and fell in love with her. The way she played that to the guv who's falling in love with her. The way she played that part I could so relate to. I thought anybody that can be this open and honest even acting I just fell for her."
Sounds like he fell for Randy Jackson too." I met Randy first and I thought Randy was the sh*t," Tyler said. "I love Randy. He and I got on in the first 5 minutes, it was like we were separated at birth."
Article continues below advertisement
Tyler also said he has rarely been harsh with contestants this season and revealed he has a contract for more than one season, although he wouldn't specify how long it runs.
"I'm not going in there to be a harsh judge or overly bearing judge," Tyler said. "I'm just bringing my Italian, I-know-how-to-work-a-room-and-fill-it honesty -- 40 years as a front guy in Aerosmith, who's judged the hell out of himself and made a good career out of it," Tyler said.
Still, Tyler has a few regrets. "Yeah I made some harsh comments the first week and they snapped back and said, 'What do you mean?' I only did two of those," he revealed with a laugh.
"There were only two of those because I didn't want that to happen again. I couldn't say that you were no good without substantiating why and a couple times I said, 'You just don't have it' they did ask me why and I couldn't tell them why."
Article continues below advertisement
Idol has already picked its Top 40 Tyler said and as he looks at his own career he likes what he sees.
"Everything that came my way has cut me into what I am today and what I am today is a grateful recovering drug addict, alcoholic," he said candidly. "I'm not without my faults and my marks and my scars. I'm proud of them.
PHOTO: Jennifer Lopez Tweets Pic Of Herself In Front Of Her Own Billboard
"Things are good."