Exclusive
EXCLUSIVE PHOTOS: Feud? What Feud! Food Soothes Apparent Tensions Between New York Housewives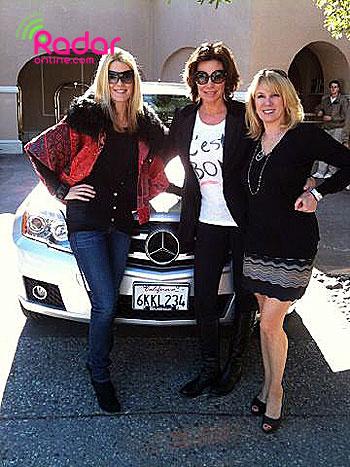 According to sources close to the Real Housewives Of New York City, two of the reality show's main stars, Ramona Singer and Countess Luann de Lesseps are embroiled in a bitter feud.
But, if indeed that is the case, the two ladies appear to have buried the hatchet, at least for now, as they dined together today at the Ivy in Los Angeles.
One source said that things had gotten so bad between the two that they were refusing to talk to each other and even insisted on flying to LA on separate flights!
Article continues below advertisement
However, they were all smiles today and chatted together happily over lunch, even taking time out to pose for photographs to document the occasion.
And, Ramona is keen to set the record straight, once and for all, when it comes to their relationship.
"Luann and I may have our differences but we all respect each other," Ramona tells RadarOnline.com. "We do get along and in fact we are having lunch together today."
Ramona is also keen to clear up reports that the cast members had been ordered to fly to LA a day earlier than had been originally scheduled, something they were all unhappy about.
"It was my idea to come out to LA a day early, to beat the storm," she says. "We know how important it is to go to the Television Critics Association Press Tour.
"It's a job with Bravo and I take my job very seriously. It was my suggestion to leave a day early and I didn't want to wait for the LA office to arrange a ticket so I called my personal contact at Journeycorp for Sonja and I to go on the same plane and Bravo took care of Luann."
Article continues below advertisement
Ramona and Luann had seemingly butted heads recently after Ramona retweeted a link to a YouTube video purportedly showing Luann's 16-year-old daughter rolling what appears to be a joint and using the N-word.
She later apologized profusely and insisted that she had never meant to send the offending Tweet, blaming her lack of computer savvy for the error.
The cast are currently in Los Angeles to promote the upcoming season four of their hit show, which, as RadarOnline.com exclusively reported, is set to premiere the week of February 14.