Exclusive
EXCLUSIVE: New Reality TV Show About Major League Baseball Groupies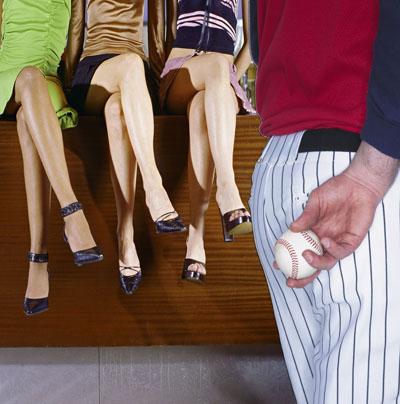 Move over Tiger Woods, it looks like some cheating major league baseball players are about to see their groupies on TV, thanks to a new reality show in the works.
RadarOnline.com has learned exclusively that casting in now taking place for a show about Baseball Annies, slang for women who stop at nothing to hook up with major league players -- married or single.
The show has the working title of Cleat Chasers and according to Jenn Hoffman of Get Some Media confirms casting is in full swing, but couldn't reveal details of the show.
Article continues below advertisement
A source familiar with the production told us it will feature women who know every trick to score with the pros.
"It's a reality show about girls who stop at nothing to score with athletes while they are away from their wives and girlfriends during baseball spring training," a source close to casting told RadarOnline.com exclusively. "It's about girls that have gone pro in the sport of 'cleat chasing.'"
Scottsdale, Arizona -- the home of spring training for many major league teams -- is a front runner to host the show and several women from there have already been cast.
"The girls will go to any lengths to go to games and practices with the goal of sleeping with and getting material things from athletes as a notch under their belt," the source told RadarOnline.com exclusively.
These Baseball Annies talk about receiving gifts and jewelry from their athlete conquests, and have tales of wild nights out and hotel stays.
Article continues below advertisement
"Some girls reside in Scottsdale and others plan their vacations from other states around going to games to meet athletes at spring training," the source said. "The girls map out what clubs, bars, and restaurants players go to so they can stalk them. These girls will do anything and are proud of it.
"So if you're a single athlete it's an amazing way to meet women and if you're a married athlete it's an amazing way to cheat on your wife. Almost every girl interviewed for the show has admitted that it's not a concern of theirs if the athlete is married or not," said the source.
The reality show will focus on the women and the 'cleat chasing' lifestyle more than the players and their participation, added the source. That, however, doesn't mean players names haven't been dropped by the 'cleat chasers' interviewed!
"The girls have named players -- some that are famous and married, some single, and some players that are new to the game," added the source. "And the production company is trying to figure out what's true and what's not."