Exclusive
EXCLUSIVE: LeAnn Rimes Received $85K Engagement Ring After Fiancé's Child Support Payments Slashed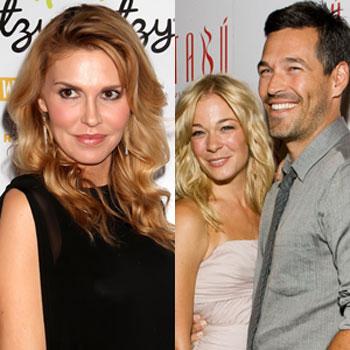 LeAnn Rimes received a sparkling $85K engagement ring from new love Eddie Cibrian after his child support payments to his ex-wife were slashed because Eddie's income had dipped, RadarOnline.com has learned.
In an exclusive interview, model Brandi Granville has admitted the timing "wasn't obviously the best" and said her relationship with Eddie and LeAnn Rimes had deteriorated in recent months. She also revealed that while LeAnn got the expensive ring, she has to give BACK money from her divorce settlement.
Article continues below advertisement
"Look, I don't mind that he got her a ring but the timing wasn't obviously the best and the truth is the communication is not great right now," Brandi told RadarOnline.com.
"I just want to get on with my life and to move forward but it is really tough at times because everything has been so very public."
The pair got engaged over the holidays with LeAnn proudly flashing her platinum bling, featuring a 5-carat oval diamond, set in rose gold fleur-de-lis.
Ironically, it happened at the same time as Cibrian's child support payments were slashed because the former CSI: Miami star has not worked a lot as an actor in the past six months.
So much so, Brandi will also have to pay her ex some money back, under the terms of their divorce agreement, while finding a new home too.
That's despite Eddie driving a Porsche and living in a lavish Calabasas abode!
Brandi and Eddie share joint legal and physical custody of the couple's two sons Mason, 7, and Jake, 3.
Article continues below advertisement
"Ideally, I would like to have a better relationship with Eddie and LeAnn but that has not been possible recently but I'm determined to keep going," Brandi told RadarOnline.com.
"The lease is up on my current home and I will be looking for a new place to live shortly while also trying to take care of my sons.
"I'm looking for work and trying to get my real estate license but it is a gradual process – I'm not saying Eddie is a bad guy and he is a great father but I just wish it all could be a lot easier."
LeAnn , 28, and Eddie, 37, met while filming the Lifetime original movie Northern Lights when they were both married to other people.
The Country superstar was married to Dean Sheremet at the time, while Eddie was still with his wife Brandi.
VIDEO: LeAnn Rimes Talks To Shape Magazine
When their relationship went public it shocked Hollywood and resulted in both marriages ending in divorce.
After news of their engagement broke, Rimes took to Twitter and gleefully told fans: "Thank you for all your well wishes!! We are extremely excited and look forward to a beautiful future. It's been an incredible last few days, I was shocked!!! We are blessed, our families are so happy and our lives are filled with love."