Exclusive
EXCLUSIVE INTERVIEW: Balloon Boy's Dad Advertising For Lawyer, May Sue Cops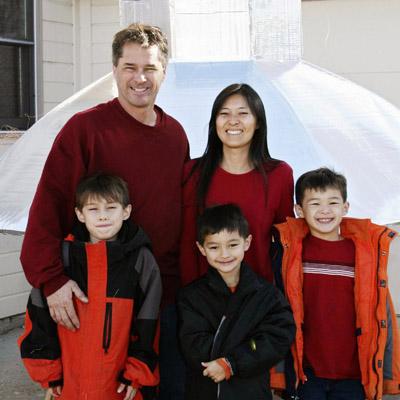 Balloon Boy dad Richard Heene is looking for a lawyer and has told RadarOnline.com: I'm going to fight to clear my name once and for all!
Heene has placed an advertisment on Craigslist searching for a lawyer as he intends to sue the Colorado police and judicial system for putting him behind bars following the infamous prank involving his son Falcon.
The father-of-three was sentenced to 30 days in jail and given 60 days community service plus a fine following the incident that gained international attention in October 2009.
Article continues below advertisement
But despite the fact that he pled guilty to a felony charge of attempting to influence a public servant in connection with the incident, Heene believes that he was set-up.
Heene exclusively told RadarOnline.com: "I'm going to fight to clear my name once and for all.
His advertisment for a lawyer on the popular site reads:
I need an attorney to let me know if I have a lawsuit against corrupt cops and judicial system. A friend of mine thinks I do, so that friend put up videos on YouTube that you can look at to make a determination. The videos clearly demonstrate cops and a prosecutor lying. If you are an attorney and you are interested in taking this case on, then please contact me ASAP and I will send you the links. I have selected your city for the search, as the town of the incident can not be trusted.
"Several lawyers have already contacted me and I'm looking for their opinion to see if I have a case for a civil suit – this was not some elaborate publicity stunt," Heene tells RadarOnline.com.
EXCLUSIVE VIDEO: Watch Heene's Bizarre Short Movie
"I have evidence that Larimer County Sheriff's Department got me to go to speak to them under false pretenses then changed affidavits in connection with the case.
Article continues below advertisement
"They altered the order of calls made and stated that I had tipped off Channel 9 news – when I clearly called the Federal Air Authority first who then told me to call 911, which I did.
Click Here To Watch Heene's Bizarre Bear Scratch Commercial
"In addition they changed affidavits given by my wife and gave me a polygraph when I was exhausted and also seized my balloon and computer too.
"I only took the plea deal because my lawyer told me that my wife could get deported and child welfare services could take my kids".
After Heene reported his six-year-old son Falcon had floated off in a homemade helium balloon on October 15, a worldwide audience watched the bizarre incident unfold as the Mylar balloon soared 7,000 feet over eastern Colorado -- with no boy in it.
EXCLUSIVE: Balloon Boy Dad Richard Heene Visited In Prison By Wife
In a CNN interview with the family the following day, Falcon turned to Richard and told him, "You had said that we did this for a show."
Article continues below advertisement
"Falcon made his statement because he was confused - a Japanese media outlet had asked him to go into the attic to do segments for their show and this is what he meant by his comments," says Heene.
"The truth is we genuinely thought our son went up in the balloon and we frantically tried to search for him before calling the authorities.
"The story got out of control and I believe the Colorado authorities used it for their own ends and used me for their own ends.
VIDEO: Balloon Dad Denies Hoax: "The Sheriff Is A Liar"
"I'm still scared for myself and family because they do not mess around – just look at the Tim Masters case where one of their officers is accused of wrongdoing.
"Hopefully, some lawyer will see that I have a case and take me on so that I can clear my name once and for all."
Heene says he's compiled a DVD with over one hour of evidence which he claims shows that he was set-up.
Article continues below advertisement
Although Richard Heene and his family have been trying to rebuild their lives by relocating to Florida, the recession has made it difficult. Heene says he's found it tough to get work as a building contractor with some customers refusing to hire him because of the 'Balloon Boy' saga.
To help make ends meet, Heene has been selling a back itching post called a 'Bear Scratch' to bring in some extra cash and his three sons have formed a boy-band.