EXCLUSIVE DOCUMENTS: 'Survivor' Producer Murder Case: Cheating Confessions, Phone Sex & Abortion -- Extradition Papers Reveal All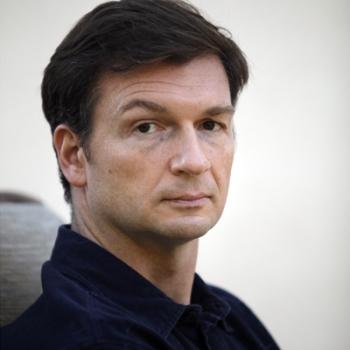 New court documents obtained by RadarOnline.com claim former Survivor producer Bruce Beresford-Redman spent $5,000 on a daylong phone-sex chat and had an affair with a woman he worked with and at one point — a story we first told you about.
Mexican authorities are attempting to extradite Beresford-Redman, 38, who is accused of murdering wife Monica, whose body was found April 8, last year, in a sewer at the Moon Palace Hotel resort in Cancun. Investigators have said her body showed signs of asphyxiation and evidence of a heavy blow to the right temple.
Article continues below advertisement
COURT DOCUMENTS: Read The Summary of Extradition Request
In the new court filings, it's revealed Monica found out that her cheating husband was buying expensive gifts for his mistress, Joy Pierce.
Monica knew of the affair after catching the two in the act and after finding messages on his cell phone, it's claimed.
COURT DOCUMENTS: Read The Notice of Extradition Filing
The victim's sister, Jeane Burgos, also declared that Monica "no longer trusted her husband" after finding email messages "containing romantic words or verses" and overheard telephone calls between the philandering pair about a month-and-a-half before her death.
Monica even went so far as to withdraw money from their bank account to hide it from Bruce at another bank, it's reported.
Jeane said Monica told her Bruce wrote an email to Joy in which he said: "That he no longer wanted to be with Monica and that he was going to leave her so they could be together."
Jeane added that Monica told her that Bruce begged his wife for forgiveness it wouldn't happen again.
Article continues below advertisement
EXCLUSIVE PHOTO: First Crime-Scene Photo Of Sewer Where Body Of Survivor Producer's Wife Found
At the same time, the sister of the slain Los Angeles mother-of-two recalled how she found an errily similar email appeal to his mistress, saying: "Joy was the love of his life and asking her to give him another chance."
It was then that Monica asked for a divorce, according to her siste.
She told authorities that Monica told Bruce, "if he agreed to a divorce they would divide the money in the bank into equal parts, and if he did not agree to a divorce, then Monica Burgos would keep everything she had deposited in compensation for everything that had happened."
Jeane also learned from Monica that she found out about a large sum of money taken out of their joint bank account given to his father to invest in the stock market.
"This surprised her a lot," it's said in the arrest warrant.
Bruce, an Emmy award winning reality television producer, was taken in U.S. custody on November 16, 2010 as he faces charges in Mexico of aggravated homicide.
It's also been revealed Monica once caught Bruce in a lie.
Article continues below advertisement
According to an employee at her Westside restaurant Zabumba, Norma Ahlf, who testified days after the disappearance, Monica had told her while she was pregnant she found a receipt for an expensive women's watch.
EXCLUSIVE VIDEO: Survivor Producer's Wife Laid To Rest
Monica later went to the store and found out her husband made the purchase, but the clerk said it was another woman who returned the watch and described her as Pierce.
Burgos family friend, Carmen Lucia Matos Palmieri, also stated in her testimony that Monica was upset when she found out that Bruce spent hours using telephone sex services while he was out of work and she was supporting him.
"So she became disillusioned and, upon confronting him, he denied it saying that he would never do such a thing," the woman told authorities.
"However, when Monica Burgos showed him proof, he cried and got on his knees, asking for forgiveness, saying that he was bored at home."
Article continues below advertisement
A spokesperson for the Burgos family released this statement to RadarOnline.com: "For the sisters of Monica Burgos, this day marks
another sad chapter in the senseless murder of their beloved sister. While we are comforted to learn that the United States government is honoring it's treaty with Mexico, we know that the extradition process may be a long one. However, Carla and Jeane will remain committed to the pursuit of justice for their sister and will attend every hearing until their brother-in-law is eventually extradited to Mexico to face the charge of aggravated homicide."