Exclusive
EXCLUSIVE: Charlie Sheen's Porn Star Lover Bree Olson Spent Time In Juvenile Detention Center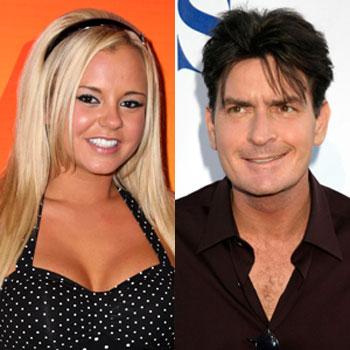 Charlie Sheen's latest porn star lover, Bree Olson, spent two years at a juvenile detention center as a teenager, RadarOnline.com can reveal.
Olson – whose real name is Rachel Oberlin – did her time at the juvenile facility in Indiana before she entered the porn world by signing a contract with X-rated production company, Adam & Eve.
Katy Zvolerin, who worked with Olson for three years, believes that these experiences as a teen have made the controversial blonde a 'tough as nails' adult.
Article continues below advertisement
She told RadarOnline.com: "Bree is tough as nails, make no mistake about that. She has been through a lot but she is a real survivor.
"She admitted to me that she had stayed in juvenile facility as a teenager for what she called 'criminal mischief' but I would not be surprised if the offenses were worse than that.
"I actually liked Bree a lot but she could be a little scrappy when she had to be and was one of those girls who could definitely look after herself.
"She was raised by her parents and was originally from Texas but she had a difficult time growing-up and those experiences certainly shaped her into the person that she is today."
RadarOnline.com revealed how Olson - who also made a cameo appearance on Keeping Up with the Kardashians – is planning to cash-in on her Las Vegas tryst with Sheen by engaging famed mistress manager Gina Rodriguez to sell her story.
Article continues below advertisement
Rodriguez manages scandalous women such as Joslyn James, Michelle McGee and Jasmine Waltz - all of whom had celebrity affairs - with McGee also being linked with Sheen's Las Vegas high-jinx weekend.
RadarOnline.com has learned Olson wants to spill all her sordid secrets and is hoping a media outlet will pay at least $50,000 for her story.
And Zvolerin is convinced that Olson will do everything possible to cash-in on being linked with the Two and a Half Men star.
She added, "Bree is very determined and focused. She is one of those girls who wants to make as much money out of the porn industry as quickly as possible – being linked to Charlie Sheen will be like a gift to her.
"With Bree, sexually anything goes. She was under contract with us after she turned 20 and made around eight movies per year.
"She left six months ago, under amicable terms, and was always very professional. I never saw her do drugs or alcohol.
Article continues below advertisement
"She wanted to do more 'Gonzo-style' porn and would do unprotected sex scenes although she was regularly tested. Since she left our production company, she has been working non-stop.
"Bree is a very dirty girl with no boundaries so I'm sure that's why she hit it off with Charlie Sheen.
"If anything, he would struggle to keep-up with her sexually but she loves other women and would do anything that he wanted in the bedroom.