Exclusive
EXCLUSIVE: Charlie Sheen's New Porn Star Lover -- Selling Him Out Already!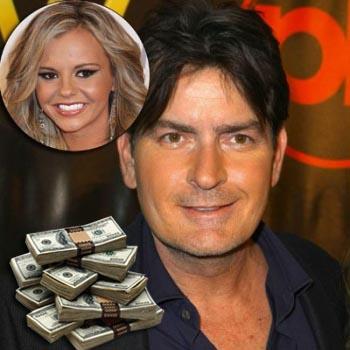 The 23-year-old porn star who has stolen Charlie Sheen's heart is already planning to sell him out, RadarOnline.com has exclusively learned.
Bree Olson, a porn actress who also made a one-time appearance on Keeping Up With the Kardashians, is hoping to capitalize on her sexual trysts with the Two and a Half Men star and has engaged famed mistress manager Gina Rodriguez to sell her story.
Rodriguez manages scandalous women such as Joslyn James, Michelle McGee and Jasmine Waltz -- all of whom had celebrity affairs.
Article continues below advertisement
RadarOnline.com has learned Olson wants to spill all her sordid secrets and is hoping a media outlet will pay $50,000.
"Bree is shooting for the stars: she wants to make a quick cash hit after she and Charlie's liaisons became public," said one knowledgeable media source.
"They're accepting offers of at least $40,000, but realistically want $50,000 for her to speak out."
As RadarOnline.com previously reported, Sheen, 45, spent the weekend in Las Vegas knocking back vodka during the day and by night, romancing a "revolving door" for porn starlets, including Olson, in the upscale Hugh Hefner Sky Villa inside the Fantasy Tower at the Palms Casino Resort.