Exclusive
Camille Grammer To Bravo: Not So Fast...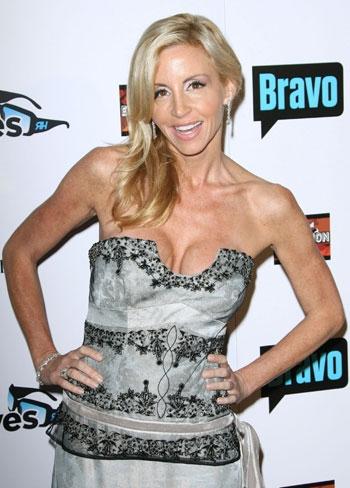 Camille Grammer is threatening to quit The Real Housewives of Beverly Hills, but it's just a negotiating ploy a source tells RadarOnline.com exclusively.
"It's a renegotiation tactic to get more money," said our source – who is close with the Housewives of 90210.
"Other Housewives on the show are making more money per episode than Camille."
And although Camille may not be lucky in love, she could have better luck professionally, as the source tells us, "Bravo won't let her leave."
Article continues below advertisement
"If Camille was serious about quitting, she would have quit by now. They are waiting for a better offer from Bravo."
VIDEO: Camille Grammer 'Doing Really Well,' Says Beverly Hills Housewives Costar
The reunion episode for the debut season was shot a couple days ago, and our source adds that Camille hasn't officially exited the hit show and is waiting to see the reunion.
"She wants to see what she looks like, but it won't be good."
RadarOnline.com was given a sneak peek of the reunion by our source about what co-stars Taylor Armstrong called an "emotional day filming" and Adrienne Maloof-Nassif referred to as "exhausting" and "VERY interesting" on Twitter.
"She (Camille) just kind of snapped like she has in other episodes," our source added.
But if Camille decides to stay she has the support of the other Housewives, who want to keep the original cast intact.
Article continues below advertisement
"They don't want her to leave."
Camille and her estranged husband Kelsey Grammer are in the process of negotiating a multi-million dollar divorce settlement that will involve custody of their two kids.
The two were married for 13 years and Grammer is known to be worth tens of millions. Word is she may receive close to $50 million in the settlement.
RELATED STORIES:
EXCLUSIVE: Kelsey Grammer Seeks To Protect Pension & Business Accounts From Camille